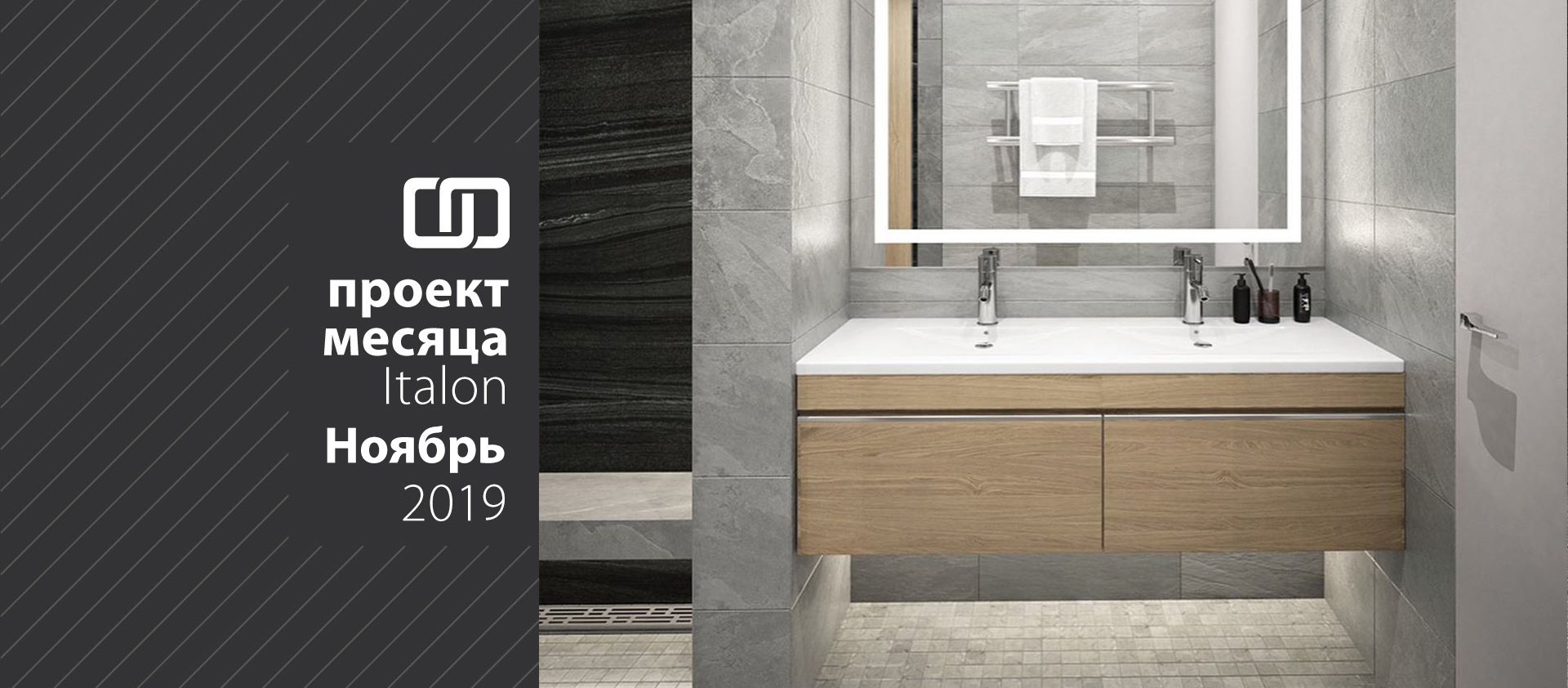 The winner of the contest "Project of the month" – NOVEMBER 2019
We are happy to announce that the winner of the monthly Instagram contest "Project of the month" NOVEMBER is an interior studio IQ DESIGN @design_iqdes.
All members of jury have noticed a detailed elaboration of the project from the client's safety and comfort point of view.
Neutral texture of the grey stone effect porcelain stoneware Materia Carbonio 30×60 with a honed satin finishing is a perfect base for decorative accents.
That is why a designer have chosen luxury onyx effect tiles Surface Astrus 60×120 with lux finishing.
And after a while, a client can add some colorful decorative elements as accessorizes or textile, as he so wishes.
As about safety, there is a porcelain stoneware mosaic on the floor.
So that a client has a very safely and non slippery flooring in the bathroom.
We thank everybody for the projects and we launch a new contest "Project of the month"  DECEMBER!
What is it a «PROJECT OF THE MONTH»:
it is a monthly Instagram contest from ITALON.
How to participate in a «PROJECT OF THE MONTH» – December 2019:
1. You should post in your Instagram profile a project with Italon tiles in December. It could be a rendering or a realized project.
2. You should add a hastag #проектмесяцаItalonдекабрь19
3. In the project's description you should tag our profile @italon_ceramica
How do we choose the winner:
At the end of every month a Marketing Director Italon Giovanni Ferraguti together with an architect Mattia Parmiggiani chose a PROJECT OF THE MONTH
What will the winner get:
we will add a special "Project of the Month" logo to your project,
we will post your project on the official web site www.italon.ru and our social media,
we will add your project to the monthly newsletter Italon
we will send you a winner's e-certificate.
CONTEST PERIOD: every month.
CONDITIONS:
1. Architects, designers and dealers Italon can participate in the contest.
2. A project must be posted within the month of the contest.
3. All the textures in the project should be taken from Architalon section.
4. A project must contain only Italon assortment.