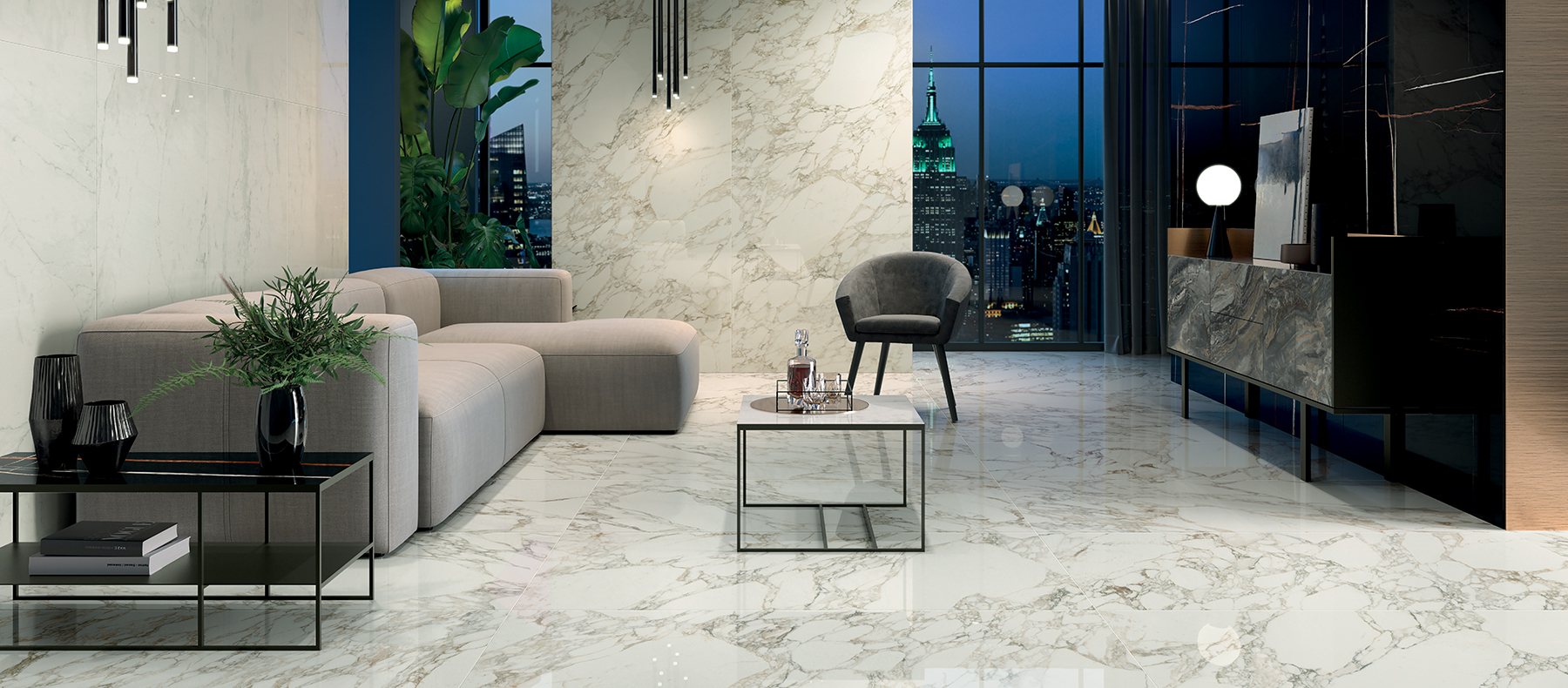 Charme Deluxe: style without compromise
Charme Deluxe renews Italon's vocation for luxury with an uncompromising range of eight autonomous surfaces, inspired by eight distinctive and highly characteristic types of marble. Matching these different looks results in an original style, capable of transforming any space.
Сoncept of coordinated design project
Charme Deluxe is a part of the Full Design Project. It represents a new way of designing, manufacturing and displaying ceramic tile products. It is based on the broader concept of coordinated design project. Its main characteristics are:
versatility (it is perfect for floors and walls),
a complete range of sizes,
a variety of finishes and decors.
As a part of this project, Charme Deluxe meets the needs of the most demanding customers.
Charme Deluxe stands out for the powerful, heterogeneous identity of its components. From the lighter, more ethereal shades, expressed in four different variants of white, to the darker, more clearly marked surfaces, this collection provides an aesthetic balance that has been optimized in every detail so to offer interior designers exceptional creative versatility:
Bianco Michelangelo
Arabescato White
Invisible White
Statuario Fantastico
Cream River
Sahara Noir
Emperador Dark
Grigio Orobico
Choose any combination, even the boldest, and let the tiles take over your room and tell their own, unique, extraordinary story.
A captivating story, told by rich veining spanning across large formats 80×160 and 80×80 in matt and lux finishes, and 60×120 available in honed satin finish.
These sizes are now complemented of 40×80 marble effect white body wall tiles, for the first time available in gloss finish in Bianco Michelangelo, Arabescato White or Cream River colors.
Charme Deluxe finds its most powerful expression in the new ultra-large 120×278 size, which further emphasizes the charismatic character of the collection's colors, highlighting its versatility fitting of different architectural contexts.
With a thickness of 6 mm, these tiles are ideal as prestige coverings for interior scenic walls and exclusive, luxury bathrooms.
This size is also perfect for external façades, total look solutions and furnishing complements like tables, wardrobes and work surfaces.
Details make the difference
Charme Deluxe collection is rich in decorations, adding further value to the wide choice of surfaces. The uniqueness of tiles' design is complemented by precious decors, like classic mosaics and Diamond mosaic with a lux finish and Split mosaic with a honed satin finish. A porcelain stoneware decor Strip reflects a marble pattern with formal linearity, while the sumptuousness of the Intarsio represents the collection's pinnacle of luxury.
A wide range of decorative solutions is completed of two other mosaics Square and Lounge, decors Play and Sahara Glitter 30×30 and four different wall tile decorations in 40×80 format: 2 Deco inserts that add rigorously eclectic spirit to the interior, Golden Line, that develops a pattern of precious lines, and Empire, with an elegance derived from its gorgeous pattern.
Charme Deluxe collection embodies the very best in marble effect tiles and forms a transversal and complementary range that is unrivalled for its completeness and refinement.