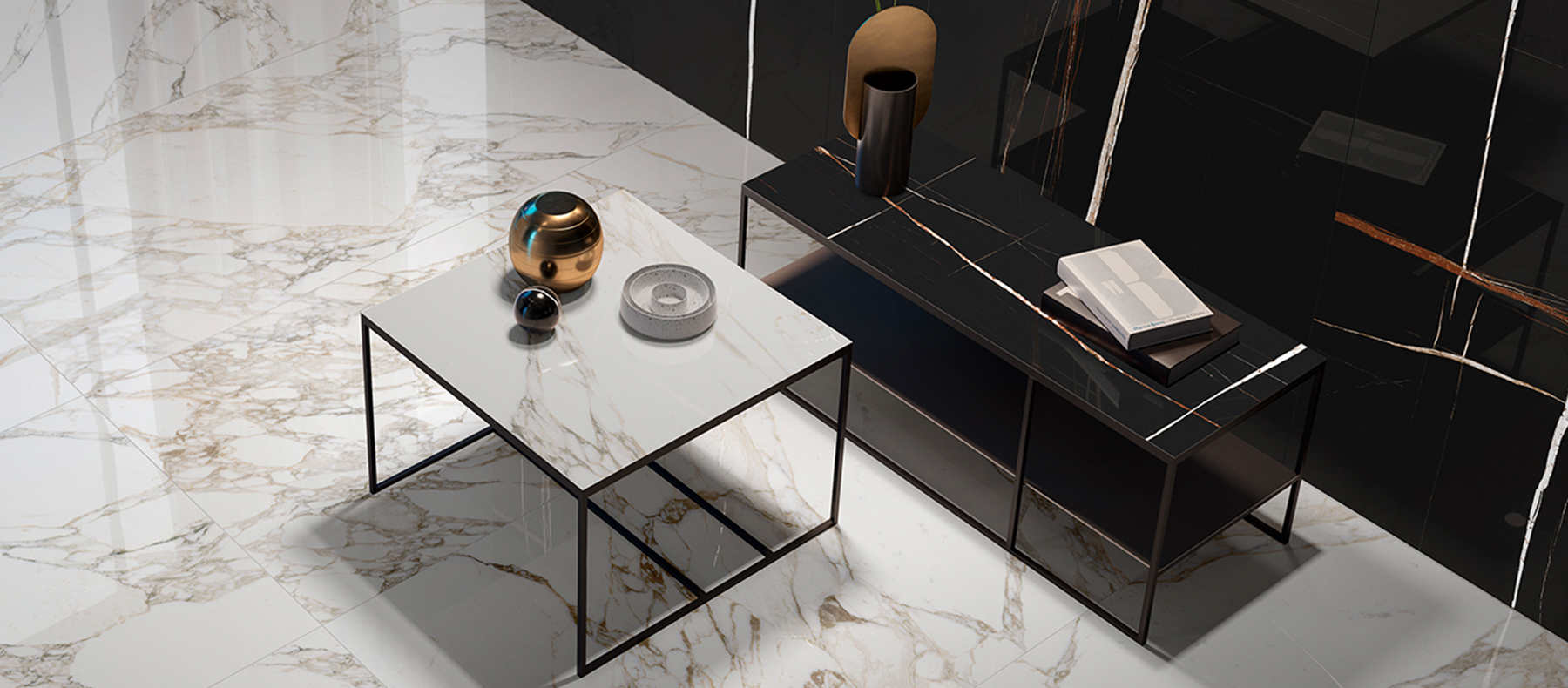 Italon Home Side Tables
Side tables are must-have items, essential to the practical and stylish design of any living room or public lounge area. This small, yet fundamental, piece of furniture presents several advantages other than functionality: it can truly transform your room, serving as a bright accent and trendy interior decoration. That's why we wanted to write an article to tell you all about the aesthetic and technical features of Italon Home side tables.
Italon Home is a new and fast growing furniture brand by Italon, employing the same stunning porcelain stoneware of our best selling collections to design functional yet beautiful furniture and sanitary ware.
Why did we decide to create a range of porcelain stoneware furniture? Frankly, because this outstanding material has unique technical characteristics that are perfect for any item or surface. Italon Home products are distinguished by their exceptional qualities:
Hygienic, hypoallergenic and safe for people;
Resistant to various chemicals;
Stain and damage resistant;
Low maintenance and super easy to care for;
Resistant to high temperatures;
Water resistant (meaning they are not affected by prolonged water exposure).
In addition, all Italon Home items are designed in Italy, with great attention to the smallest details for what concerns both aesthetics and ergonomics.
The uniqueness of Italon Home side tables is found in their versatility: they can be manufactured with porcelain stoneware from any Italon collection, in any color and with any finishing. You get to choose whether you want your furniture to match your floors and walls, or to create bright accents through contrasting shades.
Italon Home currently includes two different models of side tables: Lounge and Square.
Thanks to their minimalistic design, these products easily fit in a great variety of settings, whether you're furnishing the home of a young couple, a large family, or the studio of a professional, a public lounge area, a beauty salon, or a clothing boutique.
LOUNGE SIDE TABLES
Lounge side tables are available in three sizes and two shapes:
Oval tables, 60 cm or 90 cm long with a constant width of 40 cm;
Round tables with a diameter of 50 cm.
Please note that all tables in the Lounge collection differ in height. This allows you to create holistic compositions by either placing them individually or as part of an ensemble basic furniture to create original design solutions.
Either way, this elegant item serves as a convenient piece of furniture as well as a bright accent to provide character. Plus, another stylish element of our Lounge tables is the glossy brass T-bar connecting the table legs.
All leg tips also include black plastic caps to protect your precious porcelain stoneware floor.
SQUARE SIDE TABLES
Square side tables are available in two sizes, 60 x 60 cm and 100 x 40 cm, both with a height of 41 cm.
The table top trim and the legs are made of steel and painted in RAL color. The tips of the legs on Square tables are equipped with silicone pads to protect floors from mechanical damage.
Both models of side tables are sold assembled and ready for use. Please remember: to distinguish original products from fake ones, look for the "Italon Home" sticker, ensuring your item is authentic.
Side tables are used to design anything from living rooms, bedrooms, patios, and balconies. They are fashionable accessories that always find their way into the spotlights. Porcelain stoneware helps create wholesome and harmonious settings and Italon Home supports you in the design of unique projects that will make your home both practical and elegant, adding personality and a refined finishing touch.
You can find the entire range of Italon Home products on our official website, or by reading the article "Italon Home Products Catalog". You can buy Italon porcelain stoneware tiles and furniture from authorized dealers; please remember that furniture and sanitary ware from Italon Home are made on request and may require up to 4 weeks to be carefully manufactured.
Find your nearest showroom using our "Dealer Locator".