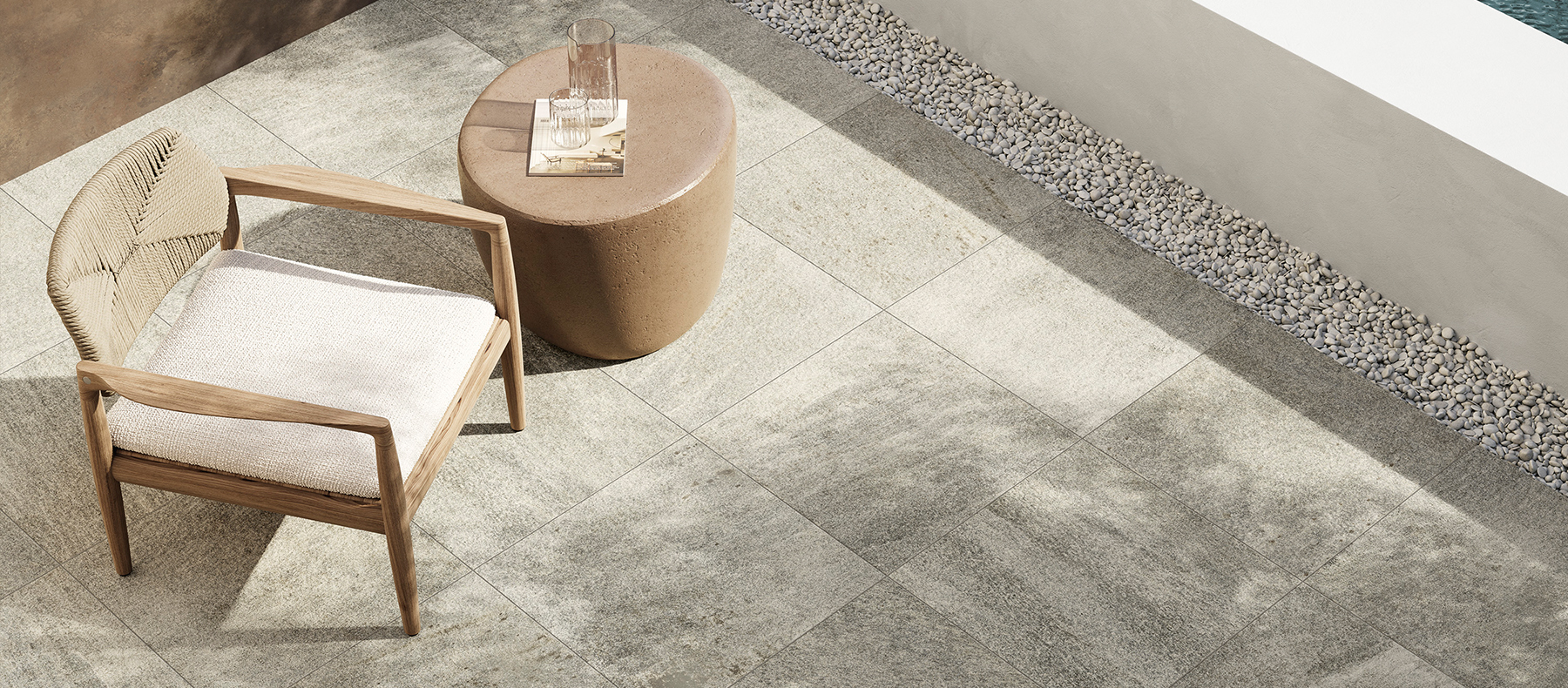 NORDICA AND DISCOVER X2 — new tile collections for a country house
The construction season is at its peak, so it's the perfect time to acquaint you with our range of porcelain stoneware that can help solve many "cottage-related" problems. Whether it's interiors, exteriors, or green spaces, Italon X2 ensures a consistent style across any space, making it the perfect choice for designing both public and private areas.
Italon X2 outdoor tiles represent the flawless combination of technical specifications and aesthetics that all Italon products are known for.
In this article, we will discuss the new Italon X2 2023 products and the benefits of using porcelain stoneware outdoors.https://www.italonceramica.ru/ru/kollektsii/prostranstvo/keramogranit-naruzhnyj/ We will also share ideas on how to use this unique material for designing your home's exterior and landscaping.
In 2023, we launched two new collections — Nordica and Discover X2.
Nordica is a collection of outdoor stone-like tiles with a non-slip surface. It's an ideal material for landscape design, garden paths, barbecue areas, building exteriors, and usable rooftops. The three shades — Ice, Silver, and Rope — realistically replicate the unique pattern of Pietra di Luserna stone with its delicate veins and color transitions, emphasizing the unique aesthetics of its natural counterpart. Each color is available in a practical 60×60 format with a textured surface, crucial for exteriors to prevent slipping, even in rainy weather when the surface is damp. A broad selection of special items, from steps to pool grates, allows for the creation of a comprehensive project in a consistent style.
This collection replicates the pattern of the iconic Jerusalem stone. The two shades in the Discover range — Gray and Fume — are available in a 2 cm thickness and 60×60 format. The Italon X2 outdoor tile is a practical choice for a summer house or cottage. The neutral grey hues of the stone-like porcelain stoneware can transform a country house into a tranquil oasis, perfect for leisure time. The stone texture will remain in style for years to come, and its high technical features — frost resistance, anti-slip surface, and wear resistance — ensure the coating's safety and longevity. The collection is further enhanced by special items and decorations, broadening the use of Italon X2 porcelain stoneware.
PROVEN ADVANTAGES OF X2
FROST RESISTANCE
If properly installed according to the best practices, X2 has excellent frost resistance and can withstand extreme temperatures.
SAFETY
X2 meets the high requirements of safety standards, thanks to its special anti-slip grip finish.
EXCELLENT MECHANICAL CHARACTERISTICS
X2 has a tensile strength that is 7.6 times higher than the standard.
WEAR RESISTANCE
X2 is resistant to shock, stains and chemicals.
PRACTICAL AND EASY TO CLEAN
X2 has been designed to be easy-to-clean and does not require complex maintenance. It is also ideal for areas with high pedestrian traffic.
DURABILITY
X2 has a long service life and maintains a high level of performances and aesthetic qualities throughout its life; it is not subject to fading, loss of color and deformation.
WIDE RANGE
X2 has a wide range of special products for the design of public and residential spaces, swimming pools and green areas.
Regardless of whether you own a classic-style country house, a modern cottage or a picturesque summer residence, Italon X2 porcelain stoneware has the perfect solution for decorating the exterior of your home. The X2 range of outdoor porcelain stoneware is a harmonious combination of unsurpassed aesthetics and impeccable technical characteristics. The increased thickness of 2 cm guarantees strength and durability and ensures high resistance to all conditions. With X2 outdoor tiles and the help of an architect, you can create a landscape where aesthetics, sustainability and functionality converge in a single design concept. There is no need to settle for compromises: each project can be designed with the most suitable way of laying the tiles including the installation on screed, supports, grass or gravel.
X2 porcelain stoneware for outdoors is perfect for creating parking areas, garages and entrances. The screed installation guarantees a stable and durable surface that can even withstand the passage of heavy vehicles, so you will feel safe and comfortable when returning home.
SOLUTIONS FOR PRIVATE HOUSES
STYLISH ENTRANCE SOLUTIONS
Unrivaled aesthetics and high technical performances make the X2 porcelain stoneware range ideal for porches, entrances and patios. Thanks to the 9 mm Italon collections you will also be able to decorate the interior of your home in the same style as the exterior, which is a trend appreciated in modern architecture.
FUNCTIONAL VENTILATED FACADE
The X2 porcelain stoneware is not limited to horizontal installation; it can be laid on vertical surfaces allowing for the creation of stylish and functional facades. This opens up endless possibilities for realizing the most extraordinary design ideas. It is important to note that ventilated facades made out of X2 porcelain stoneware can significantly improve the energy efficiency of a building, keeping the heat inside the house during winter and out of it in the summer.
SPECIAL PRODUCTS FOR OUTDOOR STEPS
In addition, the X2 range offers a wide variety of special products for outdoor staircase decoration. Such an assortment allows for continuity of style when transitioning from interiors to exteriors, even for future projects that are developed at a later time.
HOW TO LAY X2 TILES
LAYING ON ADJUSTABLE SUPPORTS
Does your country house have a rooftop terrace? With Italon porcelain stoneware X2, you can create a stylish space for cozy summer evenings. Thanks to the option of laying tiles on supports you can hide wires and cables under the tiles, using the available space to place furniture. It is convenient and neat.
GRASS INSTALLATION
X2 porcelain stoneware is suitable for dry laying on grass to create practical garden paths and surfaces. The incredibly fast, simple and economical way of installation without glue makes it easy to dismantle and change the position of the tiles as you wish.
INSTALLATION ON GRAVEL
Laying on gravel is the optimal solution for a garden and land with water outflow problems. For this method, you will be laying X2 tiles without glue onto a layer of gravel with thickness of at least 10 cm.
INSTALLATION ON SUB FLOOR
Screed placement of the X2 tiles allows to obtain strong and durable surfaces in places with increased demands for performances: parking lots, squares, roadways… The passage of cars and trucks is allowed on such surfaces.
The X2 range features a wide variety of textures that imitate natural materials (stone, wood, concrete), as well as many special products to provide suitable solutions in the field of house improvement and beautification. With the X2 range of outdoor tiles, you can embody the most daring ideas in exterior design and enjoy complete freedom of expression. If you want to get advice on frost-resistant porcelain stoneware Italon X2, or see it for yourself and buy tiles, please contact the official Italon dealers. You can find the nearest authorized point of sale in the Dealer Locator.