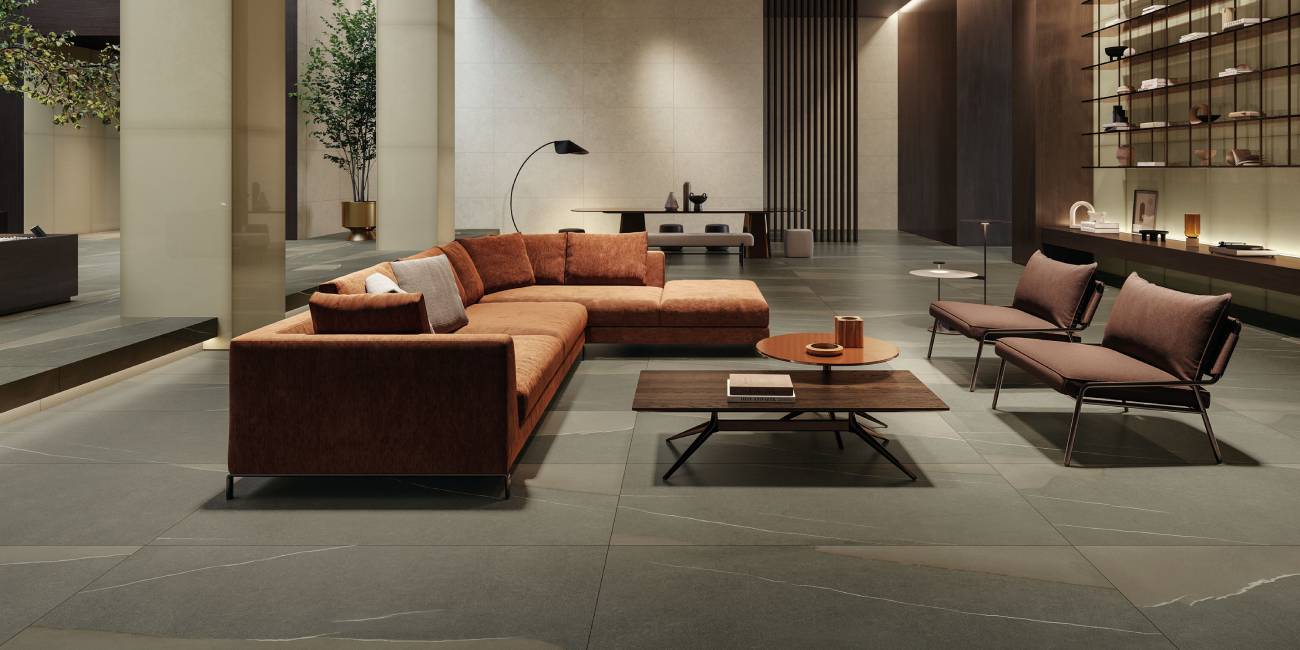 METROPOLIS Collection: The New Dimension of Stone
Stone is one of the most sought-after materials in architecture and Metropolis, a new collection by Italon, is a fresh take that explores it from an unusual angle. Stone is faithfully recreated using porcelain stoneware, reaching new heights of aesthetic and uniqueness: more elegant, more refined, more contemporary.
Metropolis' stone effect porcelain stoneware is the perfect foundation for both luxurious residential interiors and modern commercial spaces. In addition to a wide range of colors, formats and decors, it features unique porcelain tiles imitating unusual glass surfaces.
A VARIETY OF STONE SHADES
The Metropolis collection reinterprets iconic stone types popular in modern design, conveying their unique features with expressive graphics and a wide-ranging color palette.
Seven delicate and sophisticated nuances in a kaleidoscope of luxurious shades:
Calacatta Gold,
Royal Ivory,
Desert Beige,
Absolute Silver,
Graphite Dark,
Arcadia Brown,
Imperial Black.
Metropolis offers a possibility of an exclusive combination with special glass surfaces:
Glass Powder,
Glass Sand,
Glass Sky.
A NEW DIMENSION OF AESTHETICS
For the first time in the history of Italon stone collections, all Metropolis colors are available not only in the classic 60×120 format, but also in large 80×160 and square 80×80 variants, meeting the demands of spectacular total look interiors.
The durability and ease of maintenance of the matt finish make this collection the perfect choice for any space, from living rooms to bathrooms, in residential or public settings.
VERSATILITY OF THE MAXI-FORMAT
Royal Ivory, Calacatta Gold, Arcadia Brown and Imperial Black are the four colors of the Metropolis collection available in the 120×278 maxi-format. The 6mm thickness is ideal for walls, shower surfaces or kitchen countertops: minimum grout joints, maximum practicality and uncompromising aesthetics.
A BACK AND FORTH BETWEEN STONE AND GLASS
Stone effect tiles from the Metropolis collection are complemented by exclusive porcelain stoneware imitating glass surfaces available in three colors: Glass Powder, Glass Sand and Glass Sky.
They come in the 80×160 format with a glossy lux finish and help create unique combinations in any interior. Captivating brilliance, a playful back and forth between light and shadow, and original color transitions all contribute to emphasizing the unique style of Metropolis.
All three of these shades were inspired by Murano glass, which has taken over the world with its unparalleled beauty; their versatility will allow you to realize even the most daring projects.
EXCLUSIVE DETAILS
Metropolis features four porcelain stoneware decors.
Icon strikes the perfect balance between innovation and rationality; its polygonal shape with spiral geometric patterns will add a refined touch to any interior.
Hexagon is a two-tone decor with a discreet, minimalistic design. Thanks to the hexagonal chips and diagonal seams, it is extremely expressive and perfect for creating niches in classy interiors.
In addition to these, the collection features a 30×30 mosaic – a real must-have – and a decor Strip with rectangular chips whose unique shade combines several colors from the collection and comes in warm and cold tones.
The combination of decors will make any space feel luxurious and exclusive.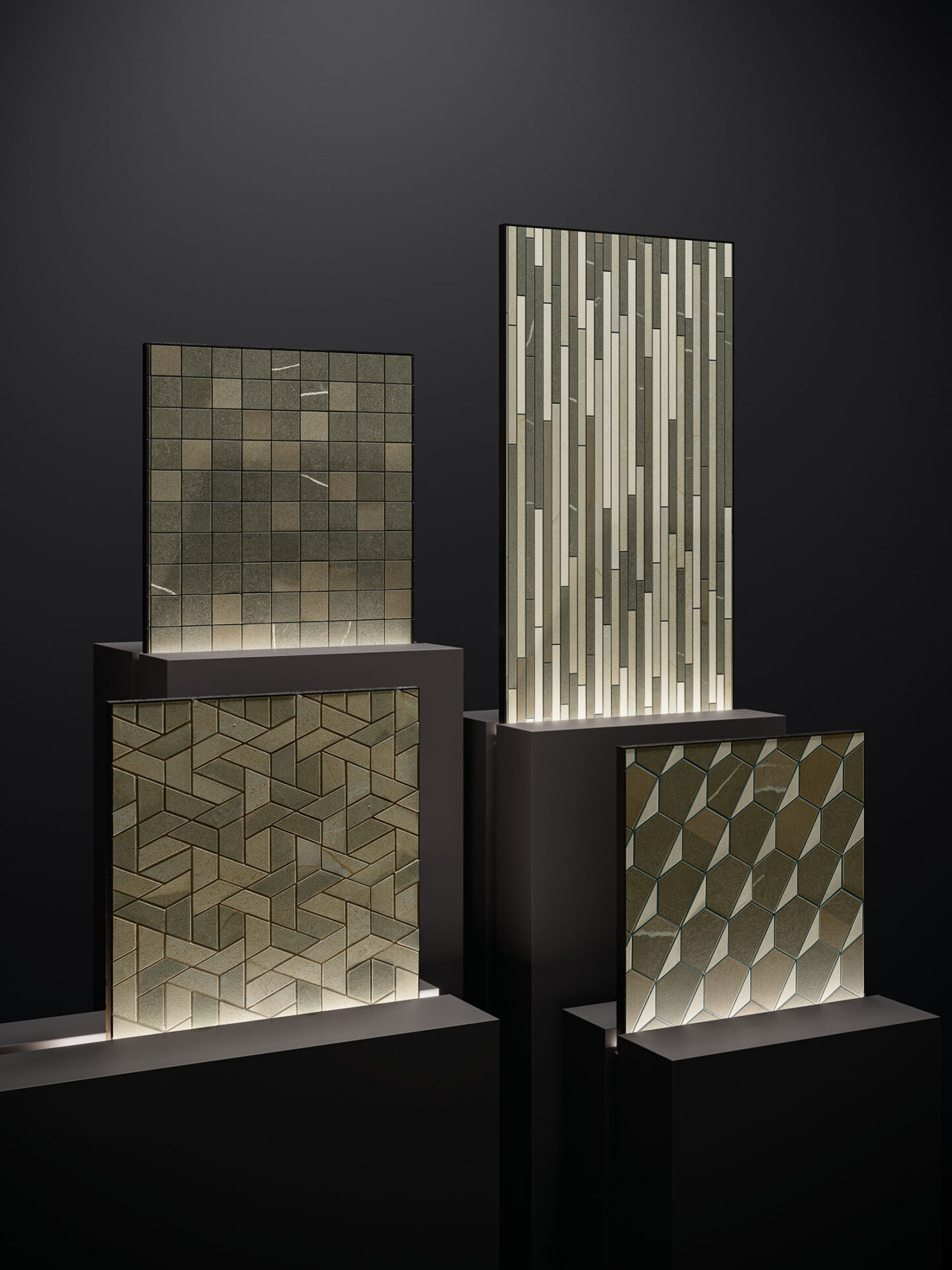 A TOUCH OF STYLE
Metropolis is harmoniously complemented by three types of wall decors.
The new porcelain stoneware mosaic, Elegant, with an original arched shape and refined golden inserts, providing a contemporary and elegant look, available in two colors: Calacatta Gold and Royal Ivory.
A spectacular combination of bright geometry and golden inserts, the Vertex porcelain stoneware mosaic shines for its luxurious uniqueness, available in the dark shades Arcadia Brown and Imperial Black, ideal for decorating designer bathrooms.
Play wall decor – available in Petrol, Denim and Wine shades – is a win-win solution for decorating wall niches and creating bright accents in commercial spaces. Six different graphics options, and a combination of matt and glossy finishes will create a fascinating play of light in the interior.
Play Petrol is a dark toned wall decor, full of chic and mysterious charm. It fits perfectly in any upscale commercial interior and, if combined with thoughtful lighting, creates a fascinating play of light and shadow, visually expanding the color scheme of any space.
Play Denim is a muted deep turquoise wall decor available in six designs. Tiles with glossy inserts, golden geometric elements, as well as plain tiles without graphics, are easy to combine with each other for unique solutions. Decor Play Denim is an ideal option for decorating of commercial spaces.
Play Wine wall decor features red and burgundy shades, it fills the space with deep color and unique graphics. Its bright expressiveness can be seen in the interior of this stylish design studio. Laying it in a random pattern will allow you to create a unique geometric ornament on the wall and give dynamism to your setting.
AN WHOLESOME APPROACH
The Metropolis collection is part of the Full Design Project, offering comprehensive solutions for interior design. It is an integrated method for coordinated solutions, representing a new approach to the development, production and application of ceramics. It is a wholesome concept that covers the full range of material needs required by any project. Its main characteristics are:
variety of formats,
wide range of decors and special elements,
versatility,
access to all necessary tools for coordinated projects.
Within the scope of the Full Design Project, Metropolis stone effect porcelain stoneware meets the numerous requirements of various interior solutions.
The Metropolis collection is thought out to the smallest detail and offers designers and architects endless possibilities for creating stylish and practical solutions. Metropolis is the definition of style, art and luxury at the highest level of performance.