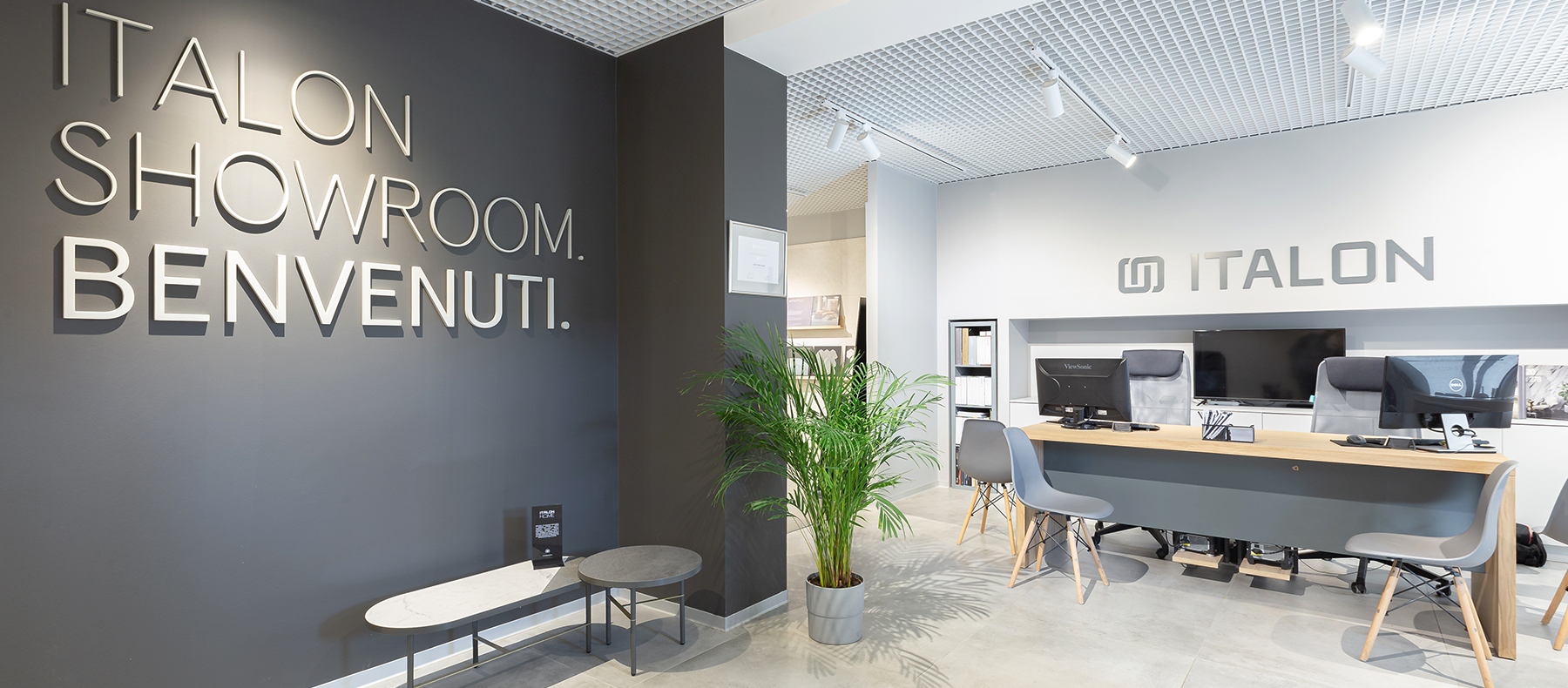 Welcome to The World of ITALON Experience Showrooms
We're often asked "where to buy Italon porcelain stoneware?" So here's the answer! Simply go to the "Dealer locator" on our website, and you will find a list of authorized Italon dealers. All our tile stores fall into one of the two categories: "Italon Experience" and "All showrooms". What's the difference? The answer can be found in the article "Where to buy Italon tiles", a piece in which we will tell you all about Italon Experience.
We never stop improving our service and making it as comfortable as possible. A few years ago we developed a special design concept for the Italon Experience mono-brand showrooms. These stores require a lot of attention to details from Italon architects: like true artists, they create a "visual story" in order to showcase the potential of every single collection. That is why Italon Experience is not just a tile store with the latest collections of articles on display, they are special places with a unique atmosphere created by Italon architects and implemented by Russia's best industry professionals.
Italon Experience features a new way of presenting material through visual immersion in the atmosphere of each collection. The purpose of such a store is to provide an opportunity to see and try your future interior. Only in the Italon Experience showrooms can the solutions from the catalogs and official website be seen live. There are no unnecessary details that distract from the shopping process: only a space that has been thought out to the smallest detail to inspire and be comfortable.
Architects and designers will be pleasantly surprised by the convenience of working with Italon's range of porcelain stoneware and tiles. The Italon Experience showrooms have a dedicated Architalon space where professionals can work with materials, learn the necessary product information and use special design tools. Modern retail equipment makes it possible to see the 120×278 maxi-format in person, observe the 80×160 large format from different angles, and go through informative panels with a range of special elements and decors. In addition, you're free to take a folder with tile samples with you to see if they're a good fit with the other finishing materials in your project.
A few years ago, Italon launched the Italon Home project, and became the first company in the Russian ceramics market to offer furniture and sanitary ware coated in porcelain stoneware from its own collections. Italon Home products allow you to customize each product, creating unique interiors where furniture and sanitary ware harmoniously complement flooring and walls. Depending on the chosen color scheme you can emphasize continuity of style or, alternatively, choose to create contrasts, adding brightness and originality to the space. The Italon Experience showrooms are the only place where Italon Home products are showcased, so make sure to find the closest one to you if you want to take a closer look, explore your customization options and place an order to buy your unique item.
If you're not only looking for interior solutions, but also need to work on the exteriors of your home, the vast assortment of Italon X2 outdoor tiles is what you've been looking for. The perfect solution to arrange the outside of your summer cottage or country house. All Italon Experience showrooms have an area dedicated to this unique collection where you can see and touch Italon X2 tiles, learn about the different ways of laying them, and discover the benefits of this line.
Our showroom managers have all gone through extensive training thanks to the Italon Academia program, and will help you navigate the huge variety of collections, formats, textures and products. Their professional advice will help you choose and buy tiles to realize your dream interior!
The network of Italon Experience monobrand showrooms already has more than 45 showrooms throughout Russia and the CIS, and their number is constantly growing: