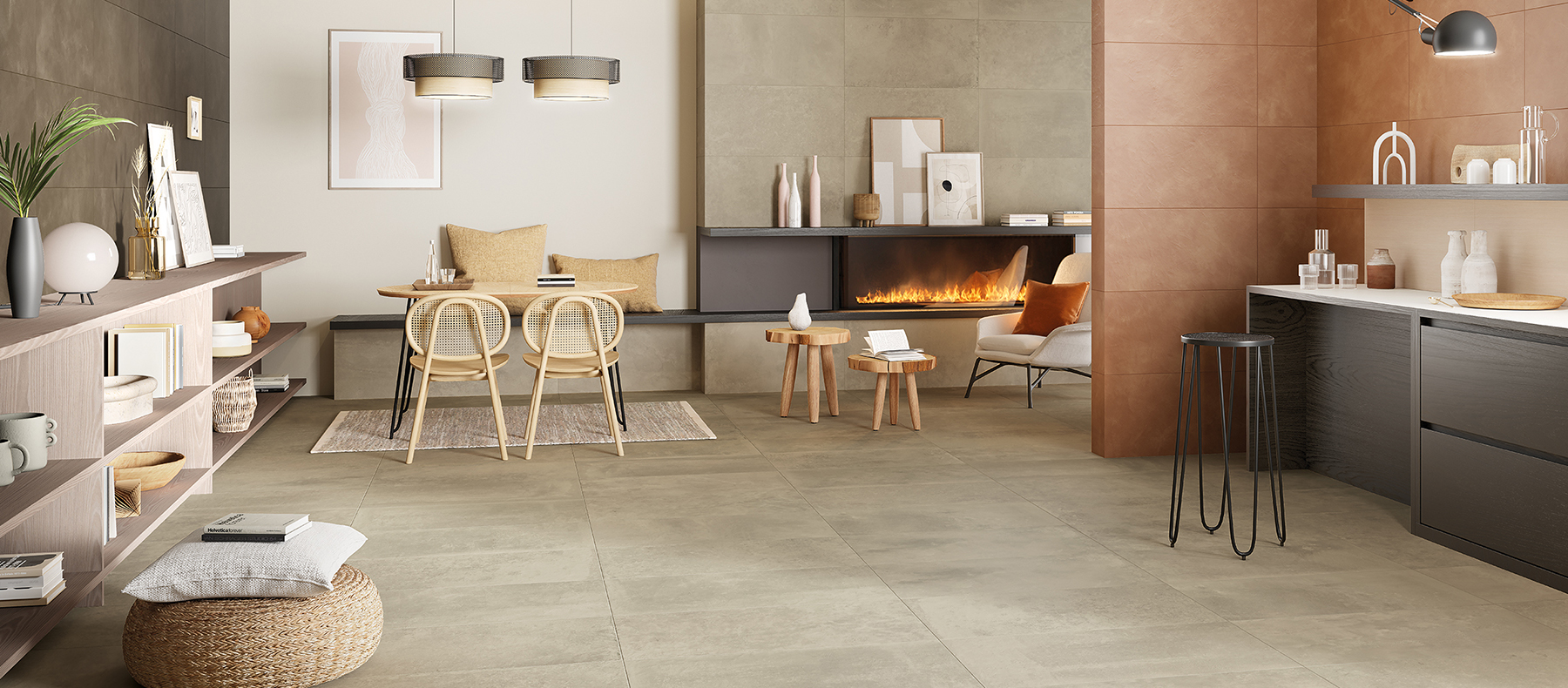 Terraviva: minimalist harmony
Terracotta flooring, a traditional Italian classic, is invigorated by contemporary energy to create this innovative, new, living material. The origin of Terraviva lies in highly versatile contemporary cottocemento, a material that greatly extends expressive potential and achieves a warm, welcoming, sophisticated but comfortable feel.
The raw character of cement and the reliable finish of ceramic tile combine in four richly nuanced colors:
Terraviva is based on a creative blend of apparently different materials, old-style cotto, sheet metal and concrete, whose colorful dialogue creates a ceramic surface rich in nuances and visual effects.
This collection of wall tiles is inspired by colored clay, a fascinating material with thousands of years of history behind it, revisited to relate a story of innovation and modernity. It comes in the following options:
Neve
Senape
Cannella
Moka
A perfect balance between the old and new transpires from the collection's surfaces and offers new opportunities to create uniquely personal spaces and new ways of indoor living.
Delicate inspirations
A combination of complementary surfaces and wall coverings gives rise to refined environments with a creative soul. This collection is dedicated to sensitive design and to the creation of unique color and material contrasts capable of infusing energy and contemporary charm into residential and commercial spaces.
Versatile elegance
These refined and intimate surfaces find expression in floor tile sizes 45×90 and 60×60, which can be combined with a selection of 40×80 wall tiles.
Italon products stand out for their strength, durability and excellent technical specifications and also for a versatility and modernity that make them ideal for original, trendy rooms.
The Terraviva collection is enriched by an excellent choice of mosaics, inserts and decorations designed to enhance and personalize any environment and to create unique spaces that express perfectly the moods that inspire them. The following options are available:
Mosaico
Mosaico Grid
Mosaico Hexagon
Tarraviva Mosaico
Play Bronze
Play Steel.
Geometric motifs and modular patterns serve the fantasy and inspiration of those who conceive and experience them.
The Terraviva collection by Italon is characterized by minimalism, suitable for a modern lifestyle. It will give incredible comfort and emphasize the sophistication of the interior.