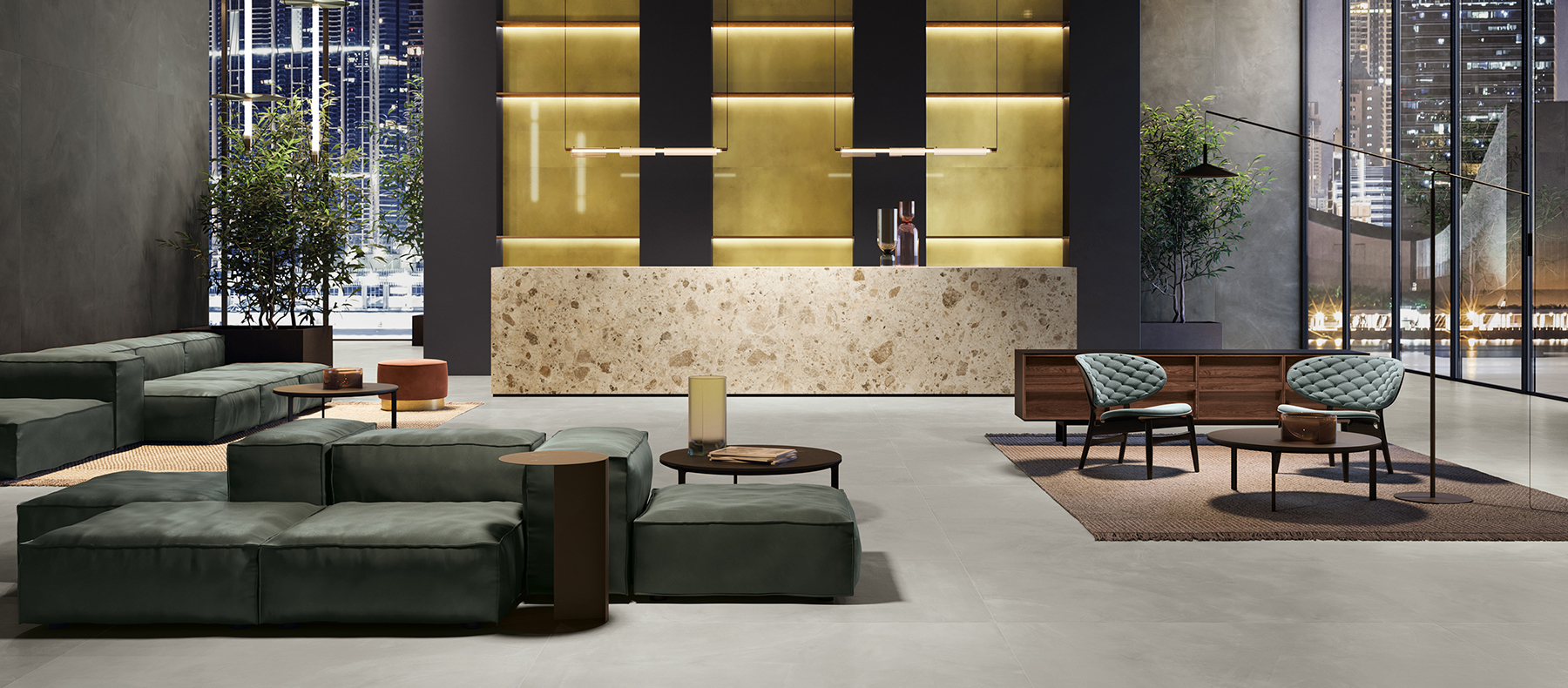 The Continuum Collection: Flawless Charm of Resin
Surfaces for contemporary living can now count on a new source of inspiration. Continuum reinterprets the minimalist elegance of resin in a porcelain with a refined trowelled look. A collection including 5 new background colours, enriched with natural agglomerates, brass plating, mosaics and decorative pieces to cover all aspects of projects for a variety of everyday settings.
The serie takes part of the Full Design Project line and includes everything you need for a complex project, with solutions for any architectural and design need.
UNIVERSAL COLORS
The stylish and extremely versatile palette of the Continuum collection presents 5 shades of porcelain stoneware:
Polar,
Pure,
Silver,
Iron,
Petrol.
Each color is available in large formats – 60×60, 60×120 and 80×160 – in matt finish, and has a pleasant texture, reminiscent of resin.
PERFECT COMBINATION WITH STONE
The minimalist background tiles pair beautifully with stone effect porcelain tiles. Tiles in the Stone Beige and Stone Gray colors recreate the texture of two agglomerates of Greek origins and are just perfect for comfortable interiors. Porcelain stoneware with matt finish is presented in the large 80×160 format, which highlights the expressiveness of graphics.
TWO TYPES OF BRASS FOR UNIQUE DESIGN
The Continuum collection presents a range of original porcelain stoneware imitating brass in a large 80×160 format, which makes for unique interior design. The shimmering golden nuances of Brass Gold are emphasized by the honed finish, giving the interior a luxurious and elegant look. The effect of an aged surface and the unique color contrasts inherent to metal are embodied by the Brass Dark porcelain stoneware, which looks spotless in both honed and matt finishes.
THE MAGNIFICENT MAXI-FORMAT
The texture of resin truly shines in the 120×278 maxi-format available in two shades:
The maxi-format range of the Continuum collection is complemented by porcelain stoneware with agglomerates effect in:
As well as in the Brass Dark metal effect.
The 6 mm thickness and minimum number of grout joints contribute to creating the sophisticated effect of an infinite seamless surface.
PORCELAIN STONEWARE DECORS FOR STUNNING INTERIORS
Stylish decors from the Continuum collection will adorn modern interiors and help create a unique atmosphere. The Jewel wall decors are embellished with uniquely shaped pixels of golden arrows pointing up. They are available in two colors – Polar and Petrol – and made to fill the interior with a luxurious atmosphere.
The minimalist Prism decor with stylish geometric patterns is available in all collection colors. It's the perfect solution for bathrooms and shower surfaces. This mosaic grid consists of identical elements rotated 90 degrees from each other, forming a stylish irregular hexagon.
The range of porcelain stoneware decors is complemented by the Strip mosaic, consisting of elongated rectangular pieces, the Hexagon mosaic and the 30×30 mosaic, all of which will emphasize the austere elegance of minimalist interiors.
UNIQUE ELEGANCE OF WALL DECORS
Wall decors and mosaics installed in bathrooms, showers or accent walls will fill the space with an atmosphere of sophisticated luxury. Infinity Mosaic is available in two colors – White Glossy and Blue Glossy – both embellished by noble gold elements to add sophistication to any space while giving the interior an expressive and catchy look.
For a unique play of light the collection features stunning wall decors: golden Play Shine and white Play Milk. Play Milk wall decor is a warm white shade with elegant gold accents skillfully combining rigor and originality, rationality and fantasy. Glossy structured surfaces create an unusual play of light and make the interior weightless and airy.
Play Shine gold wall decor is designed for stylish interiors that impress at first glance. The high-gloss 30×30 tile with a pronounced structure is emphasized by the brilliance of sparkling golden nuances on the iridescent surface.
Continuum combines the beauty of resin with all the benefits of porcelain stoneware in a single product. While conventional resin requires specialized installers and is known to be a delicate material, the Italon resin effect is easy to install and capable of withstanding wear, blows, scratches and streaking. The architects' favorite solution for combining dramatic impact with practicality.