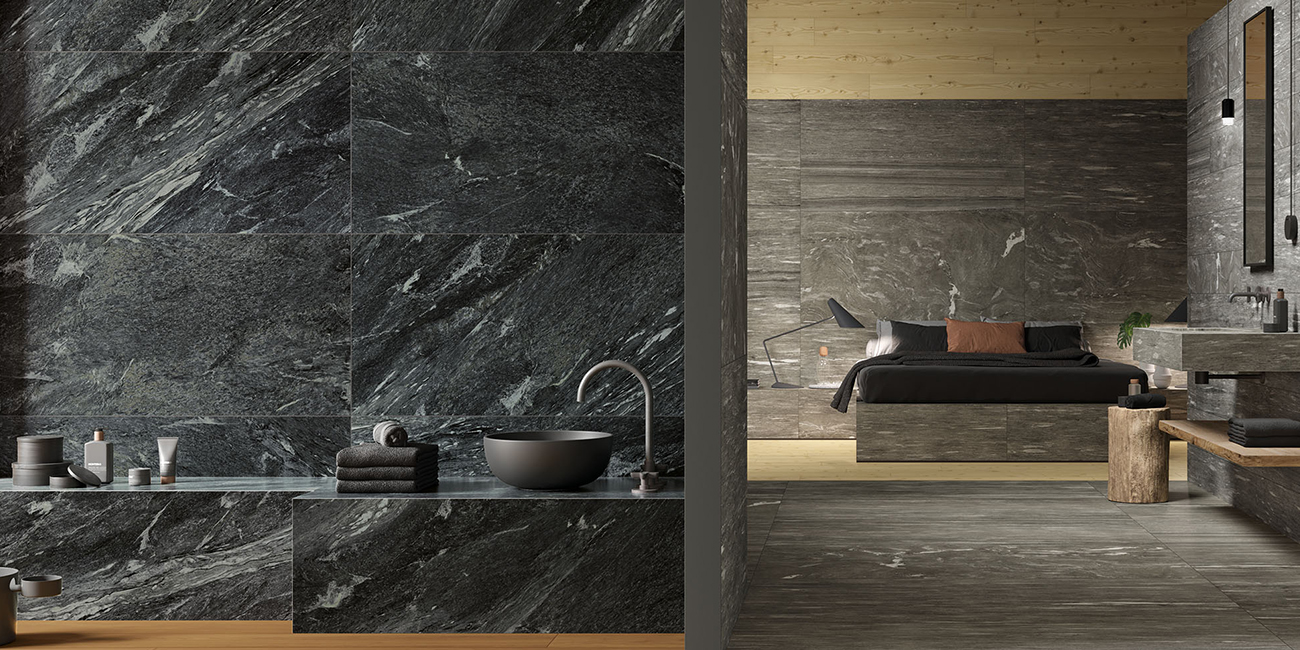 60×120 porcelain stoneware: a popular format
The 60×120 format has become increasingly popular in today's interior design. This format's popularity stems from its ability to create a unified interior, reduce the number of grout lines, and effectively mimic natural materials like marble, concrete, and stone. While larger formats like 80×160 and 120×278 can provide an even more seamless look, they require special handling for transportation and installation, and not all professionals are familiar with working with these sizes. Working with 60×120 porcelain stoneware is simpler, and it can yield equally impressive interior design results as larger formats.
The 60×120 format and its use in interior design
KITCHEN BACKSPLASH
The 60×120 tile is a versatile finishing material suitable for both small apartments and spacious rooms. It creates a unified design, and its fewer seams make maintenance easier, preserving the interior's aesthetic appeal for longer. This format is also perfect for kitchen backsplashes.
In this open-plan kitchen project, the designers from Time Design used stone-like porcelain stoneware with a pleasant patinated finish from the Contempora Carbon collection in the 60×120 format for the backsplash, and also for the dining area floor.
The patinated finish of the porcelain stoneware is ideal for kitchen use due to its smooth surface that doesn't trap grease and is easy to clean without special products. The wood-like facades and countertop add warmth and coziness to the interior.
TV ACCENT WALL
Using rectangular porcelain stoneware tiles for wall cladding is another successful interior design strategy. This approach creates a visually uniform surface as the difference between the tile size and grout line width is almost imperceptible. Choosing a grout color that matches the tiles can result in an almost monolithic covering.
It's common to make the wall where the TV is mounted in the living room an accent wall.
This not only helps define functional areas but also adds expressiveness to the space.
In this project, the TV zone is clad in black marble-like porcelain stoneware from the Charme Deluxe collection in Sahara Noir 60×120 with a patinated finish.
Against the black backdrop, the TV seems to blend in, avoiding visual clutter in the room, and the grout between the tiles is virtually invisible, as it matches the tile color.
COVERING MATERIAL FOR SMALL AREAS
By using the 60×120 format in small bathroom designs, you can fully capture the beauty of natural prototype patterns. In this format, marble and natural stones look incredibly realistic.
In this chic project, the bathroom in a house designed by Homedishin is adorned with light grey stone-like porcelain stoneware, Absolute Silver 60×120, with a natural finish from the Metropolis collection.
By the way, this is one of the designers' favorite background "stones."
Its minimalist design, reminiscent of concrete, makes it an excellent match for accent materials.
In this bathroom, it's paired with black stone-like tiles featuring striking and memorable patterns from the Skyfall collection in Nero Smeraldo 60×120 with a patinated finish, which on the floor visually appears as a genuine slab of alpine stone.
Such a combination has resulted in an interior design that will remain trendy for many years.
In Italon's range, you can find 60×120 porcelain stoneware with various graphic effects and finishes to suit any interior design and individual preferences. You can explore our collections and find your preferred option on our website under the "Collections" section. For more renovation advice, check out our "Design Ideas" section where we've gathered the most up-to-date information to help you create your dream interior.