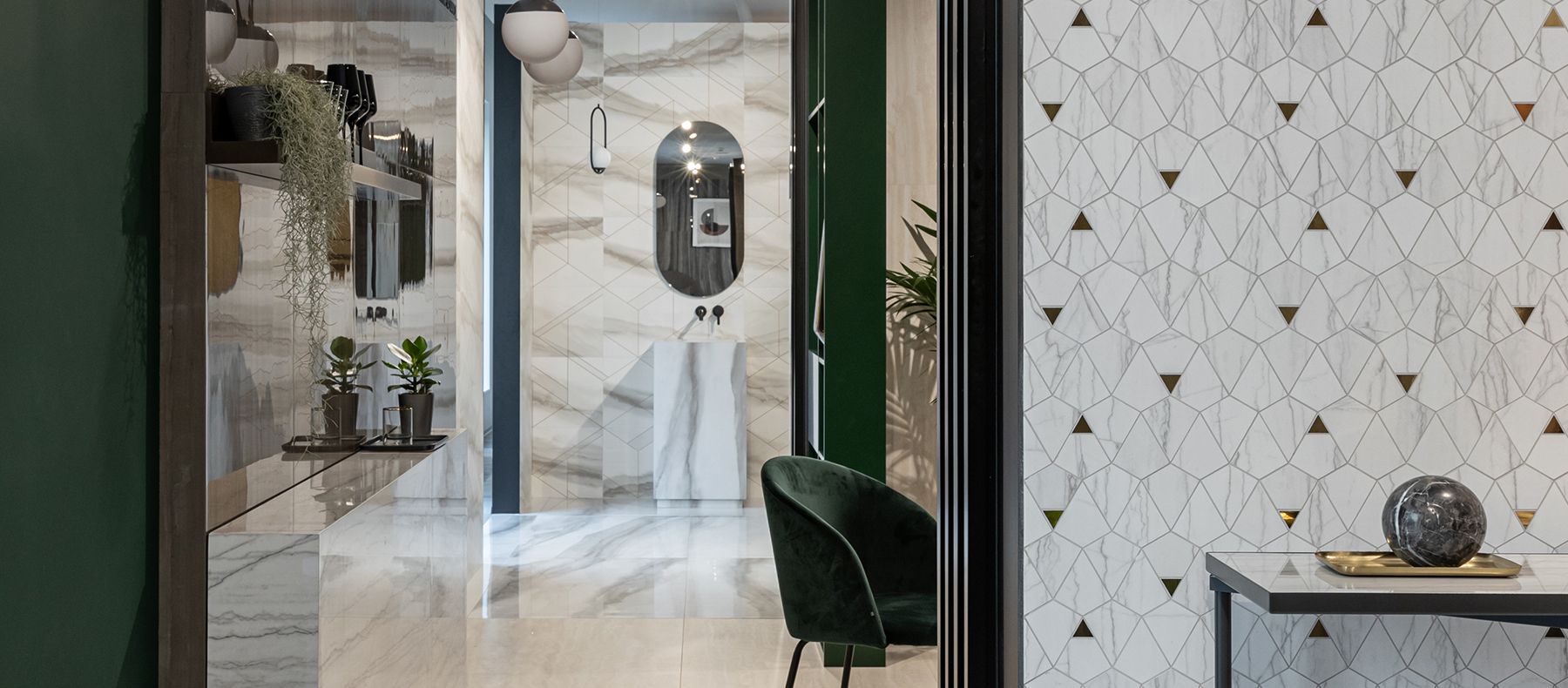 3 Reasons to Visit Italon's Flagship Showroom in Moscow
What's happening in the porcelain stoneware and tile market? And what new items are in demand? What do customers prefer today? The answers to these and many other questions can be found at Italon's flagship showroom, which opened at the end of April 2021. There are at least three reasons to visit this place.
#1 THE OPPORTUNITY TO BE AT THE CENTER OF THINGS
The schedule of business events cannot yet be called accurate since they constantly get postponed for an indefinite time or canceled altogether. But new venues have been opening up, where designers, architects and other professionals can exchange experiences and get acquainted with the collections. One of these places is the Italon showroom in the very center of Moscow, on Shluzovaya Embankment.
The author of the project is the Italian architect Mattia Parmiggiani. The studio Mattia Parmiggiani Architects specializes in exhibition design, spatial innovation and brand communication.
#2 DISCOVER COLLECTIONS AND NEW PRODUCTS
This is a space of more than 500 square meters, where a living story unfolds,with the protagonist being Italon porcelain stoneware.
Such a "story" helps to get acquainted with the philosophy of the brand and our new collections. Here, industry professionals can see how Italon products "work" in interiors, understand what to consider when working with maxi-format 120×278, as well as how to lay Italon X2 outdoor tiles so that they look as advantageous as possible and serve as long as possible, despite the difficult climatic conditions in Russia.
The company's specialists divided the range of products into three lines. These are Full Design Project, Contract and x2. Each of them intended for specific requests, such as desired design, type of surface, price or other characteristics.
The flagship showroom features all these lines, and brand representatives will help you choose tiles for the kitchen, bathroom or hallway.
In addition, you can get acquainted with our exclusive Italon Home furniture and sanitary ware, which adorn almost any space!
#3 COMFORT AND INCLUSION
The showroom works exclusively as an exhibition hall, meaning that you can not purchase the company's products here. There is always a calm and cozy atmosphere, which sets you up for creative communication. An additional "touch" is pleasant music. It lifts the spirits of Italon employees and guests.
Important! In order to visit the showroom, you need to book a timeslot on our website. To do this, select a convenient date and time in the calendar. Enter visitor information. Shortly after you will receive a booking confirmation by email.
We are looking forward to seeing you at the address: Moscow, Shluzovaya Embankment, 2A, RC "I'M".
Phone number: +7 495 231 01 48
We remind you that if you need to purchase tiles or porcelain stoneware, please contact authorized stores. Read how to find the nearest authorized dealer in our article "Where to buy Italon tiles".