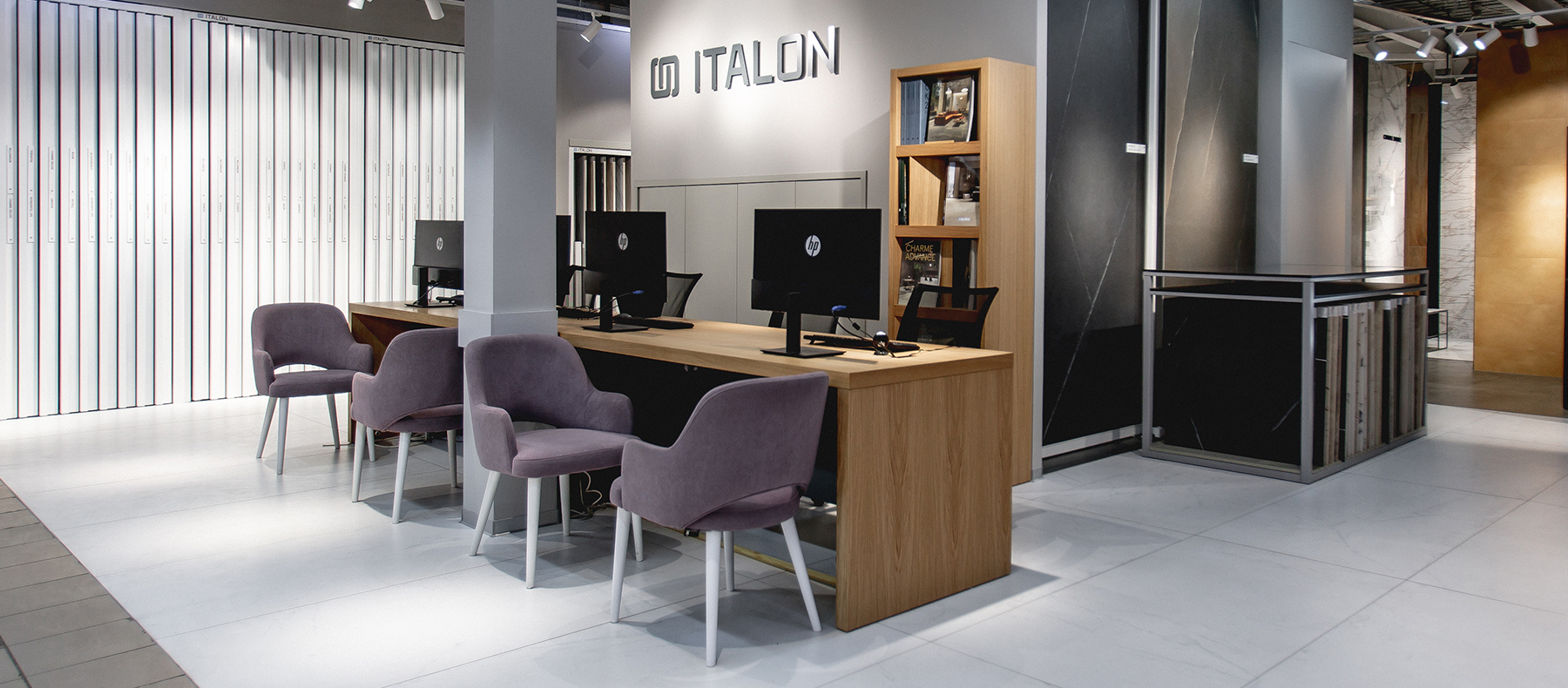 Where to buy tiles: Italon Experience showroom opens in Ramenskoye
Thoughtful design, concept, and modern architecture will take your breath away the moment you enter the Italon Experience space. Our partners follow Italon's corporate style, making the geography of Italon Experience showrooms very extensive. In October, a new Italon Experience showroom opened in Ramenskoye. When choosing a name for the outlet, our partners went with the cozy Uyutny Dom (lit.: Cozy Home).
The outlet's first floor is divided into two parts: the first features bathroom equipment, and the second is occupied by the Italon Experience showroom. Their close proximity to each other makes shopping easier for potential customers, allowing them to buy everything they need for their future bathroom, kitchen, or living room "here and now." Still, the selection process always takes some time as customers need to study the colors and surface types and examine the most harmonious tile combinations our team has displayed on the stands with ready-made design solutions.
Showrooms operating under the Italon Experience concept feature convenient tools and modern equipment. Another useful merchandising tool is the reverse display, which can hold several full-size porcelain stoneware samples. The tiles can be moved in different planes: for example, horizontally if the customer is selecting porcelain stoneware tiles for the floor or vertically if they are selecting wall tiles. Italon equipment gives customers the opportunity to see tile color saturation and depth, graphics, and surface type. The Italon Experience project has been conceived by the factory's marketing department and fully reflects the brand's philosophy.
At the official opening of the Italon Experience showroom in Ramenskoye, Italon's commercial director Vladimir Zverev emphasized the fabric's close ties with Italy and told the guests and partners about the latest ceramic trends, which Italon, of course, follows. Every year, our team attends the world's largest international trade fair, Cersaie, so we are always aware of all the developments and know-how of the ceramic industry.
The guests intently listened to the expert's presentation, asked questions, and shared information and experience. Everyone got to explore the showroom, and the designers and architects got to select materials for their current projects and draw inspiration from fresh ideas.
The official opening of the Italon showroom in Ramenskoye was attended by a whole team of our experts: the factory's commercial director, the architect who designed the showroom, and regional representatives. Our guests and partners received new knowledge directly from Italon representatives. We always maintain a direct dialogue with our partners, telling them about the latest trends and factory news and supporting them by participating in their themed events.
You can buy Italon products in Ramenskoye at 20 Doninskoye Highway, Raduga Mall, pavilion B-3. Working hours: 9 a.m.-7 p.m. Mon-Sat; 9 a.m.-6 p.m. Sun.
We look forward to seeing you!