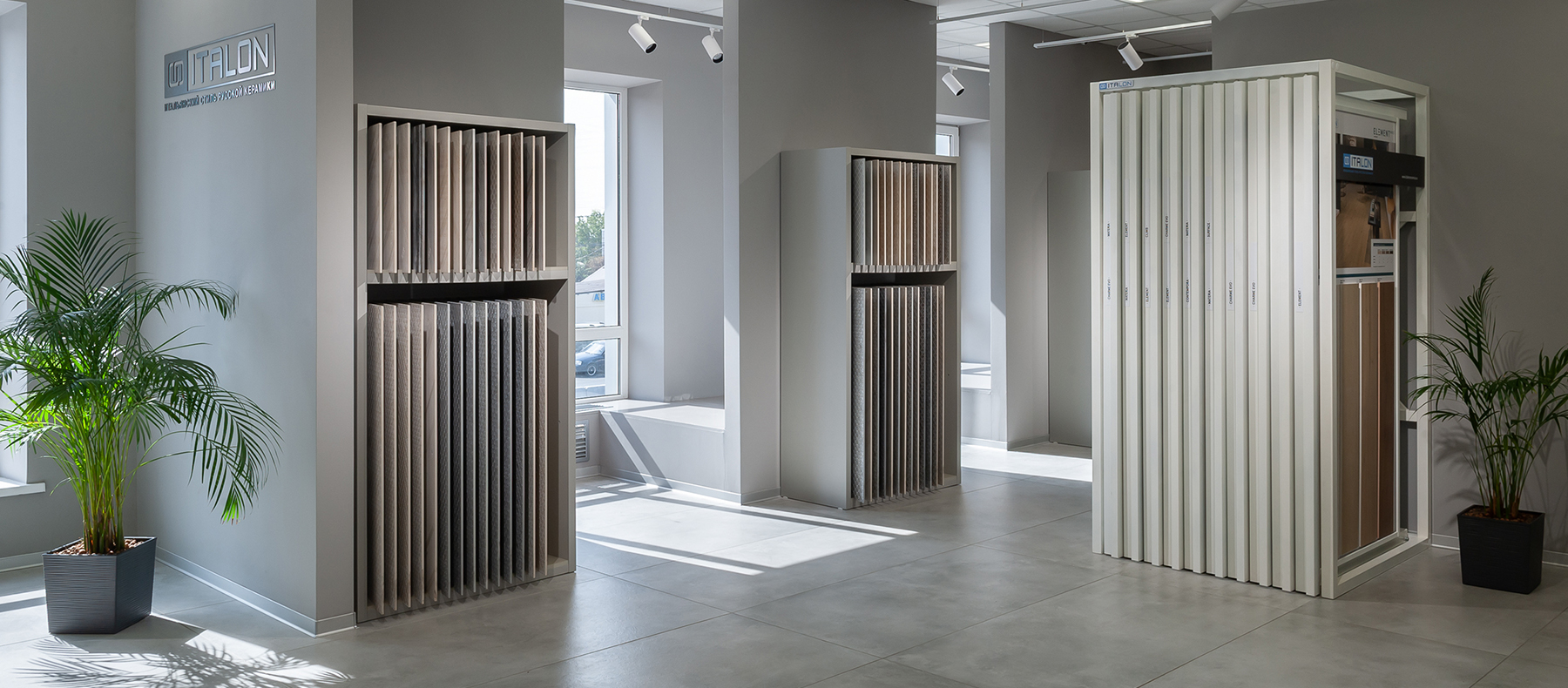 Where to Buy Tiles in Rostov-on-Don: New Italon Experience Showroom
We have some great news! A new mono-brand Italon Experience showroom opened its doors in Rostov-on-Don. It is not just any tile store: this unique showroom was designed to follow the visual storytelling concept behind the Italon Experience chain of salons, developed by Italon designers to ensure the best possible customer experience for those looking for the perfect porcelain stoneware tiles.
Let us tell you more about the unique features of our Rostov-on-Don showroom! You will immediately notice huge glass windows, providing the space with light and great character. The cozy welcome area greets guests and houses a modern display of Italon tiles next to the reception, especially benefitting from the large amount of natural lights, allowing clients to pleasantly examine the texture of Italon's surfaces.
Stylish moodboards are available to bring yourself up to speed with the latest luxurious collections and trends from the world of porcelain stoneware. Plus, to make it easier to imagine how tiles might look in your home, the showroom has a walkthrough gallery with mini-interiors, showcasing different decorations within credible sets; an original solution that makes choosing the right tiles a no-brainer. Please note that our mini-interiors also feature furniture and sanitary ware from Italon Home, perfectly embodying the idea of class and refinement, especially when complemented by Italon's stunning floor and wall coverings.
Professional architects and designers will feel right at home in the dedicated Architalon design space, browsing collections from our stylish moodboards, comfortably sitting at a tall table with comfortable chairs while they examine our samples. Designers are welcome to bring their laptop and work on their projects, trying different combinations of colors and textures.
All samples are also displayed in our ceramotheque: a convenient exhibit of Italon porcelain stoneware collections. Feel the texture with your own hands and look closely at what might just be the perfect surface for your next project. Take your time to compare our wide array of finishings, shades and textures, until you find the perfect one for your home.
Our store managers will be happy to share their professional advice with you, helping you choose wisely.
We look forward to seeing you at Rostov-on-Don, Prospect Stachki, 140
Working hours: Monday – Sunday, 10AM – 7PM
Looking for a convenient and safe place to buy tiles? Check out our article about the "Updated Dealer Locator".