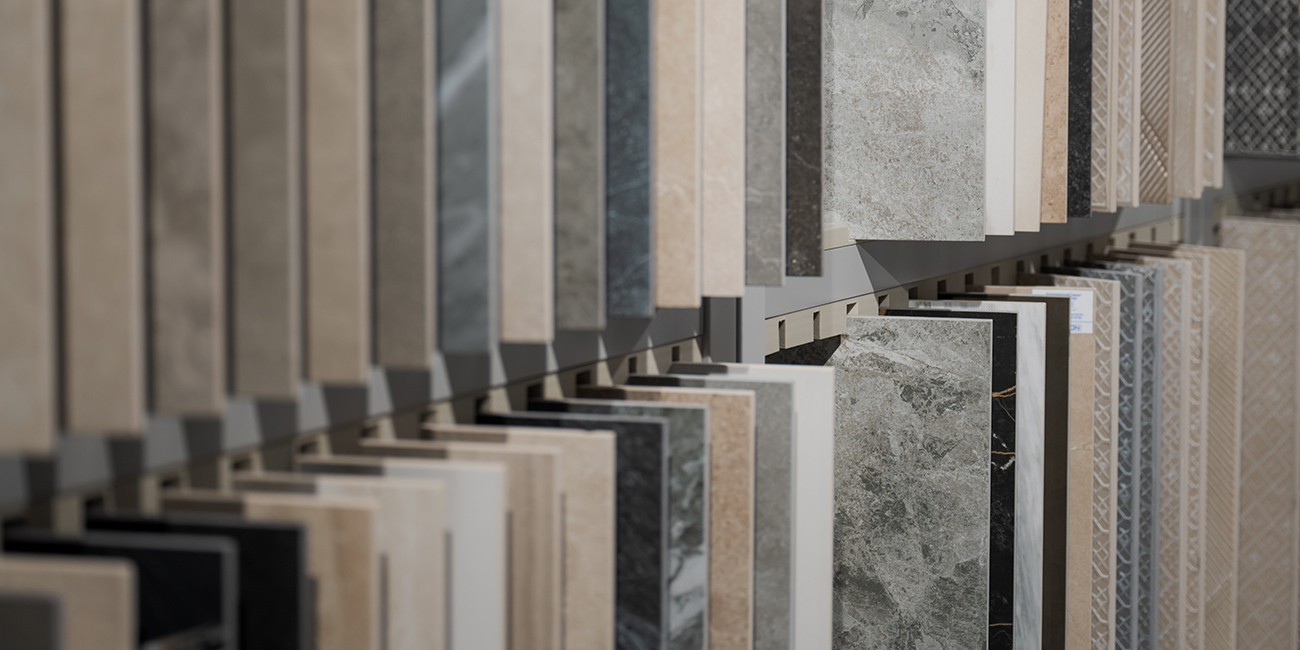 5+ key facts about porcelain stoneware
Porcelain stoneware is currently one of the most popular finishing materials. By selecting from the Italon range, you can install porcelain stoneware flooring throughout your home, tile the bathroom walls, create kitchen backsplashes and countertops, and even design a porcelain stoneware facade using the suitable attachment method. And there's more! Using X2 outdoor tiles, you can construct pedestrian paths, parking zones, swimming pools, or barbecue areas, if your project allows.
What crucial information should you be aware of during the tile selection process to ensure your choice meets all your expectations? In this article, we will discuss 5 essential facts about porcelain stoneware that you should verify with store consultants before finalizing your purchase.
1| GRAPHIC VARIABILITY
A large portion of Italon's porcelain stoneware and wall tile collections mimic natural materials, each with its own unique and distinctive graphics. Every range is inspired by a real natural prototype — a specific kind of marble, stone, or wood, the pattern of which we meticulously replicate on porcelain stoneware.
The diversity of faces (ranging from 25 to 100 patterns) enables the creation of functional coverings without design repetition. When selecting tiles in a showroom, it's important to understand that the sample displayed is just one of many possible designs. To get a better idea of how porcelain stoneware looks in bulk and to view more prints, you can refer to interior images in the range catalogs.
For maxi-format porcelain stoneware measuring 120×278, there are 4–6 prints. Don't be confused by this number: it refers to approximately 17 square meters of tiled surface, each with a unique pattern.
Also, remember to consider the VSHADE coefficient.
V-shade, or "stonalization," refers to a chromatic and/or graphic difference observed among tiles from the same collection.
If you're looking at a collection or color with a high V3 or V4 rating, make sure to review the range catalog to see color and graphic differences within a single color, familiarize yourself with design nuances before deciding to purchase, and understand how the material appears in volume.
Vivid stonality can characterize an entire range or just individual colors within a collection. For example, the distinct color nuances of concrete from the Terraviva range are a specific feature of it; each tile will be unique and not identical in tone, so do not expect a monochrome effect. Alternatively, the Grigio Alpino alpine stone porcelain stoneware from Skyfall, with its noticeably distinct graphics, offers a more subdued approach to naturalness and authenticity.
V-shade values can be found on our website, in our catalogs, and on our product packaging. It's crucial to know and take this parameter into account as it will guide you in making the right material choice for your project.
2| CHOOSING A PATTERN FOR INSTALLATION
We frequently get asked, "How should I lay the tiles to achieve a beautiful pattern?" The only correct answer is to lay them randomly without trying to match patterns. This advice applies to both standard and maxi-format tiles.
Let's be clear, you won't be able to achieve the popular butterfly effect. Firstly, this is not part of the design concept for Italon collections. Secondly, tiles are packed randomly in the box during packaging, so it's simply not possible to create a specific pattern.
Another common misconception found online is that the arrows on the back of the tiles indicate the direction of installation and must be strictly adhered to. That's not true. These are merely production markings that show the direction the tile came out of the press. So, when installing porcelain stoneware, there's no need to consider the direction of the arrow.
For a more natural look, we suggest using tiles from different boxes and doing a dry run before installation. This method allows for the creation of floor and wall coverings that are as realistic as possible, showcasing the aesthetics of the natural prototypes that inspired the collection.
3| EACH BATCH HAS ITS OWN UNIQUE TONE
The term "tonality" or "tone" refers to an aesthetic measure indicating the intensity of a tile's color. Each new batch of tiles is given a unique tone, which is always marked on the product packaging.
The porcelain stoneware you choose may slightly differ in tone from the display sample, but it will be within the same color range.
This is because porcelain stoneware is made entirely from natural materials and components such as clay, kaolins, sand, feldspar, and pigments. Predicting how these natural materials will behave under high pressure during pressing and subsequent firing at temperatures above 1,250°C is impossible.
That's why porcelain stoneware is sorted by tone after the manufacturing process.
For this reason, it is not possible to set the tone in advance and produce all the tiles in one tone. Therefore, it's crucial that each item has a consistent tone and size, or you should be notified otherwise.
4| COLOR SATURATION IN VARIOUS SURFACE TYPES
Natural, patinated, and glossy lux surfaces vary not only in slipperiness but also in aesthetics. Depending on the surface type, the same color can exhibit its graphic and color nuances differently.
The lux surface, with its mirror-like sheen, emphasizes the depth of color and graphic details of the material, making the color appear more saturated in most cases. This difference is particularly noticeable when compared to a natural or patinated surface.
It's important to remember that the selection of the right porcelain stoneware should not be based solely on aesthetics. Above all, safety, comfort, and ease of maintenance are of utmost importance. For example, it's advisable to use a natural or anti-slip grip surface for bathroom or shower floors, while glossy porcelain stoneware can be confidently used for walls.
5| VARIATION IN COLOR PERCEPTION BASED ON THE LAYING PLANE
Try this: take any Italon tile, position it vertically, and take a photo. Next, place the same tile on the floor and take another photo. Then compare the two photos. At some point, you might perceive them as two different colors. This is because the same color can appear differently on horizontal and vertical planes.
When you visit a showroom to choose a tile, specify where it will be laid — on the floor or walls. Keep this in mind when selecting the material and try to visualize how it will look in the plane where it will be used. Try to observe it under varying lighting conditions, if possible. This is necessary to accurately assess the tile's shade and determine if it's a good fit or not.
6| ATTENTION! CALIBER
Italon provides a vast range of porcelain stoneware sizes: from the smaller 30×60 to the larger 80×160 and the maxi-size of 120×278. It's important to remember that tiles have both nominal and actual dimensions.
The nominal dimension is the size that the tile is labeled as, for example, 80×80 or 20×120.
The actual dimension is the size achieved after the production process and edge refinement — rectification, meaning its true size, for example, 798×798 or 196×1195. This corresponds to a specific caliber. The standard caliber for Italon's rectified porcelain stoneware is 6, while for the 20×160, 80×80, and 80×160 formats, it's an 8 caliber. On the product packaging, in the main catalog, and on the official Italon website under the "Documents" section, you can find a comprehensive table for all size-types of our brand's range.
NOTE! The actual size is always smaller than the nominal size. Pay attention to the shipping materials and the box, which indicate the actual size (caliber) that should be considered during layout and design. Keep in mind, all tiles purchased should have a consistent tone and caliber. Tiles of different calibers cannot be installed with a minimal seam, nor can different colors and surface types be combined. Also, the tone from different batches may differ, which will be noticeable upon installation. In other words, achieving an excellent aesthetic result will certainly not be possible.
We hope our advice will help you in selecting the porcelain stoneware for the interior of your dreams. For additional guidance on what factors to consider before purchasing tiles, refer to the article "Six Tips to Help You Choose the Perfect Tile."