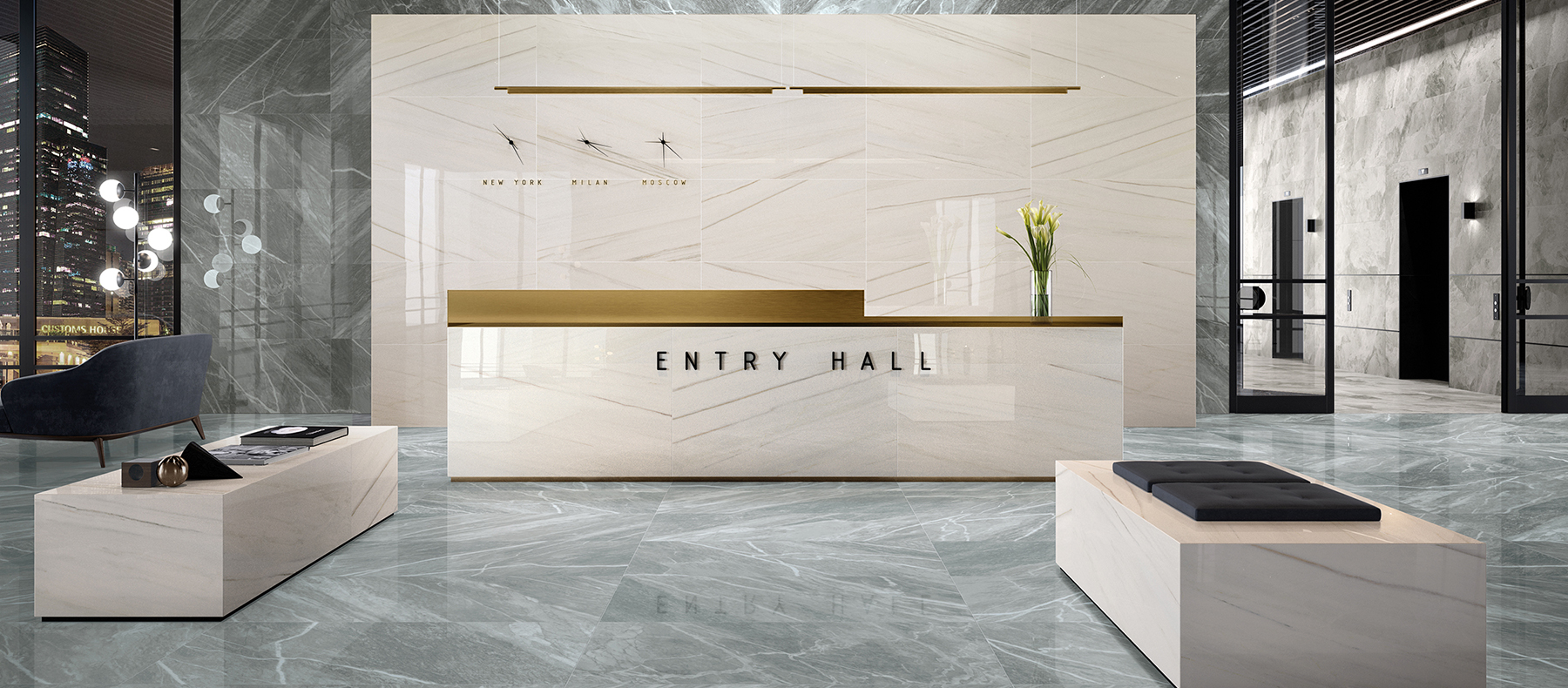 The Shades of Marble Effect Porcelain Stoneware
Today, not everyone can afford to use natural marble when decorating the house, because it is not a cheap pleasure.
As a wonderful alternative we can offer you marble effect porcelain stoneware. Using modern technology of digital printing, Italon reproduces the texture of any type of marble on the tile in details. Therefore, at first glance, it is not easy to distinguish porcelain stoneware from its natural prototype.
Marble look tiles are now often used by modern designers. This unique finishing material makes it possible to create elegant, stylish and cosy interiors, which do not become outdated over the years.
If you would like to use marble effect tiles in the covering of bathroom, kitchen or entrance hall, in this article we will help you to orient in the Italon collections and find the shade of marble you need.
White Marble Effect Tiles
In the marble porcelain stoneware and white marble wall tiles embodies all the nobility and luxury inherent in the natural marble. The covering of this material makes any room visually more spacious and brighter, and creates neat atmosphere in the room.
An important feature of white marble tiles is its versatility. It looks great in both classic and modern minimalist interiors. White "marble" can be a winning background for various interior accents, and can perfectly be combined with other colors of marble (especially with gray or black) and with tiles with wood, metal or glass effects.
In the range of Italon products there are 7 types of white marble with expressive and less visible grey veins. Here is the selection of Italon Collections with the indication of colours to make it easier for you to choose a texture you need:
Over the past few years, the porcelain stoneware with grey marble effect has been very popular. It was no longer considered bleak and boring, and, nowadays, it is increasingly used in the decoration of modern interiors. In the range of Italon collections there are 5 shades of grey marble and several textures. Our selection, presented below, will help you to find the perfect colour for your project:
The interior in beige colour will create a warm, calm and relaxing atmosphere in your house and will remain relevant for many years.
The versatility of this colour is reflected in the Italon collections. We offer you 10 luxurious beige shades:
Brown Marble Effect Tiles
If you decide to decorate the interior in warm natural colours, pay attention to the brown marble effect tiles. It can be a perfect addition to the beige tiles and can give the room the aristocratic character combined with the homely comfort.
Black Marble Effect Tiles
Usually the designers are very careful when they use the black colour in their projects because it is always a risk to make the room too dark and to create the effect of small space.
The black marble porcelain tiles are often called "exotic" and are less preferred than other colours. In the interior, he undoubtedly attracts attention and looks very splendid. There are three options of such "marble" in Italon Collections:
Porcelain stoneware with marble effect is a perfect finishing material for any interior! It is reasonably priced, versatile, durable, does not require any special maintenance and has no restrictions in use. Thanks to its unique design, pleasant texture and variety of colours and shades, it makes any design stylish and impressive.