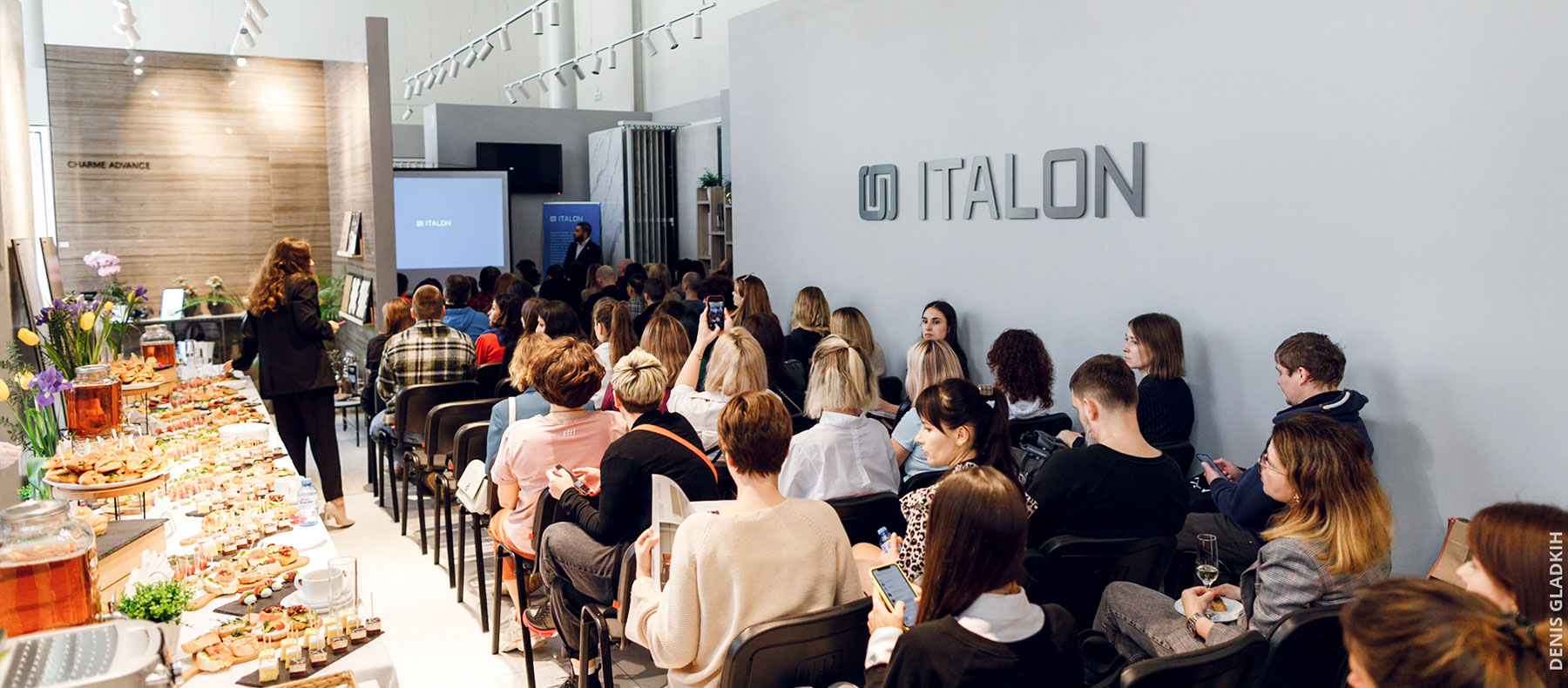 Italon Open Day in Simferopol
Italon Open Days continue. On April 21st, designers and specialists from the Crimean construction industry gathered at the Italon Experience mono-brand showroom in Simferopol in the shopping center "Oldie", to hear all the necessary information about the Metropolis collection.
Inspired by nature, the series reveals the beauty of 7 types of stones that are very popular in modern architecture. The new product is presented in seven colors: from airy Calacatta Gold and sandy Desert Beige to minimalist light gray Absolute Silver and rich dark Imperial Black. Stone effect porcelain stoneware is complemented by tiles imitating luxurious glass surfaces in three colors: Glass Sky, Glass Powder and Glass Sand in the 80×160 format with a lux glossy finish.
During the presentation, Sergey Dyakonov, Head of the Key Account Department, told why porcelain stoneware is considered an excellent finishing material and what properties distinguish it from natural prototypes. For example, porcelain stoneware maintains its look even after prolonged use. "Ceramic" marble, wood or stone is almost impossible to distinguish from natural materials, while high technical characteristics allow you to create coordinated solutions for floors and walls in the interior and exterior. The low maintenance, and effortless cleaning process make it an ideal solution for residential and commercial settings.
The presentation was held in a warm atmosphere. At the end of the evening there was a lottery with the main prize being a dinner with representatives from Italon.
We thank the management of the showroom for the amazing organization, positive emotions and a delicious buffet. Italon Open Day guests in Simferopol discovered the Metropolis collection, saw the updated exposition of the Italon mono-brand showroom, and had a chance to speak with Italon colleagues and experts in a friendly informal atmosphere.
We would like to remind that the showrooms designed in the Italon Experience concept, suggest a visual immersion in the atmosphere of each collection. Here, the images from the catalogs are coming to life. In addition, here you can study in detail furniture and sanitary ware from Italon Home, choose the product that best suits the project, personalize and order it.
If you want to learn about the latest trends in the world of ceramics and find inspiration for creating projects, plan renovations or simply need to buy tiles, we are looking forward to seeing you at mono brand stores Italon Experience in the "Oldie" shopping center. and Italon Experience on Borodina st.12 We would like to emphasize that the Italon showrooms in Simferopol already have the new Metropolis collection in stock, as well as updated tools for the comfortable work of designers and architects such as catalogs, folders, flyers and tile samples.