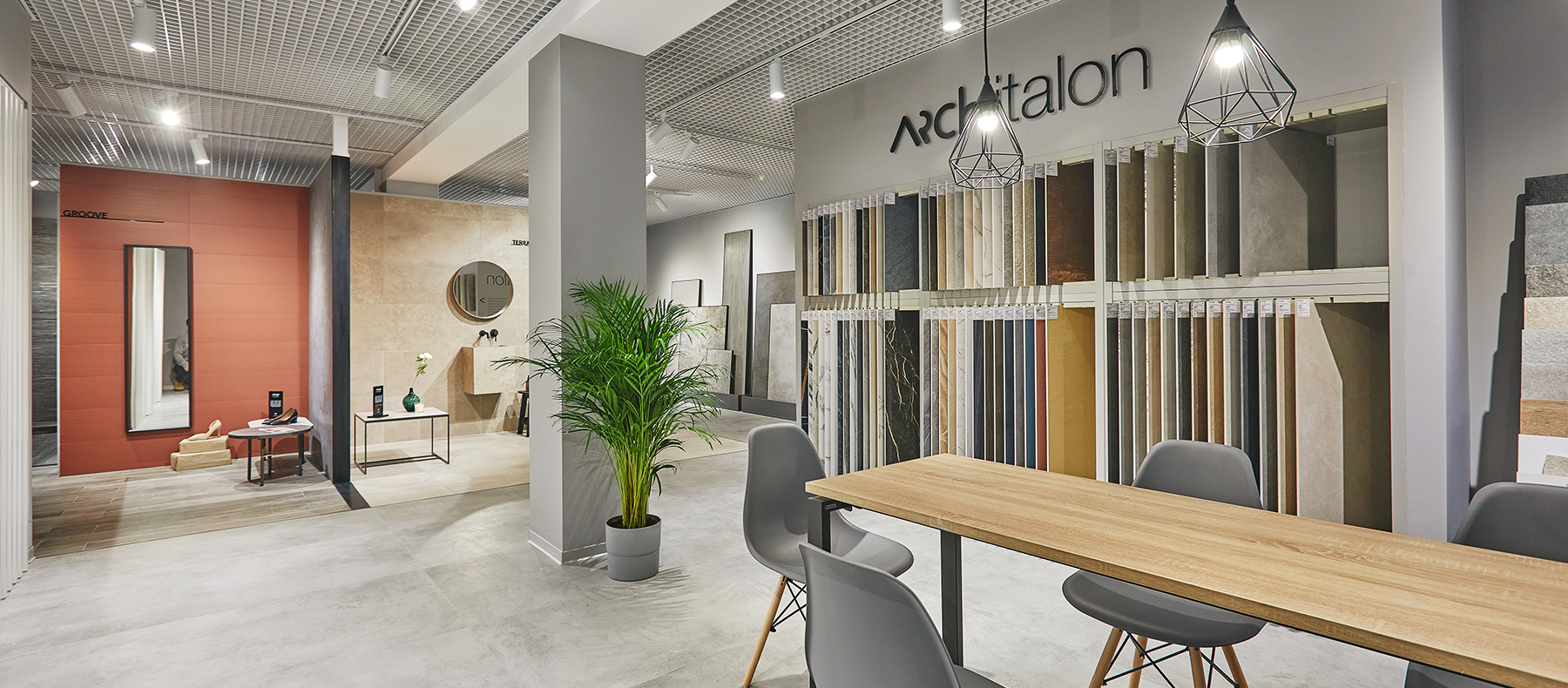 Where To Buy Tiles In Tula: New Italon Experience Showroom
We have great news! It has become even easier to buy tiles in Tula, thanks to the opening of our new Italon Experience mono-brand showroom. There, you will find the brand's full range of tiles and porcelain stoneware and get a chance to choose the perfect option for your next project.
The showroom was designed according to the Italon Experience concept, a new approach to the development and design of Italon's mono-brand showrooms. It's is not just a regular retail outlet with novelties and bestsellers: you will dive into a special atmosphere, which was thoroughly designed by Italon architects and built by the best Russian professionals in the field.
The concept behind the Italon showroom in Tula is based on step-by-step zoning. The first zone after the main entrance is the reception area, where managers will meet you and introduce you to the newest collections. A huge assortment of tile samples can be found on special shop equipment: ceramotheques, exhibitors, and more.
The center of the Italon showroom in Tula is devoted to the main exhibition exposition. There, you will find 4 mini-interiors, each featuring tiles and decors from the latest Italon collections. This area will help you to see how the tiles look when laid and how the formats and finishes can be combined. It will also help you find new ideas on how to decorate your home.
We would also like to emphasize that furniture and sanitary ware from Italon Home porcelain stoneware are also featured in the Italon showroom in Tula. You can explore the functionality of our products, learn how to customize your own piece and place an order for a personalized design, whether it's a sink, shower tray, coffee table, bookcase, or any other Italon Home porcelain Stoneware item.
The journey continues, walking through a corridor where walls are decorated with moodboards featuring samples from different collections, eventually leading you into the Architalon area. This specific area was created for designers, providing them with a place to get acquainted with Italon collections by researching tile samples.
Italon is always happy to accommodate the needs of customers, trying to support the process of collaboration. The Architalon space provides you with a place to discuss the construction schedule over a cup of coffee and work on your project with the support of salon managers.
For professionals working on country houses or collaborating with management companies, and anyone else who simply loves exterior projects, Italon is proud to present Italon X2 outdoor tiles. Terraces, garden paths, facades, barbecue areas, and gazebos will be safer and more stylish with thickened porcelain stoneware from Italon X2.
We value the quality of our Italian products and the importance of customer service: our professionals will be happy to help you in Italon Tula showroom, supporting you in your choice of the perfect tiles for your dream interior.
We look forward to seeing you in Tula: ulitsa Demidovskaya plotina, 13
Working hours: Monday – Friday, 10AM – 7PM. Saturday 10AM – 6PM. Sunday 10AM – 5PM.
Follow @italon_tula on Instagram and get the latest news from the Italon showroom in Tula!