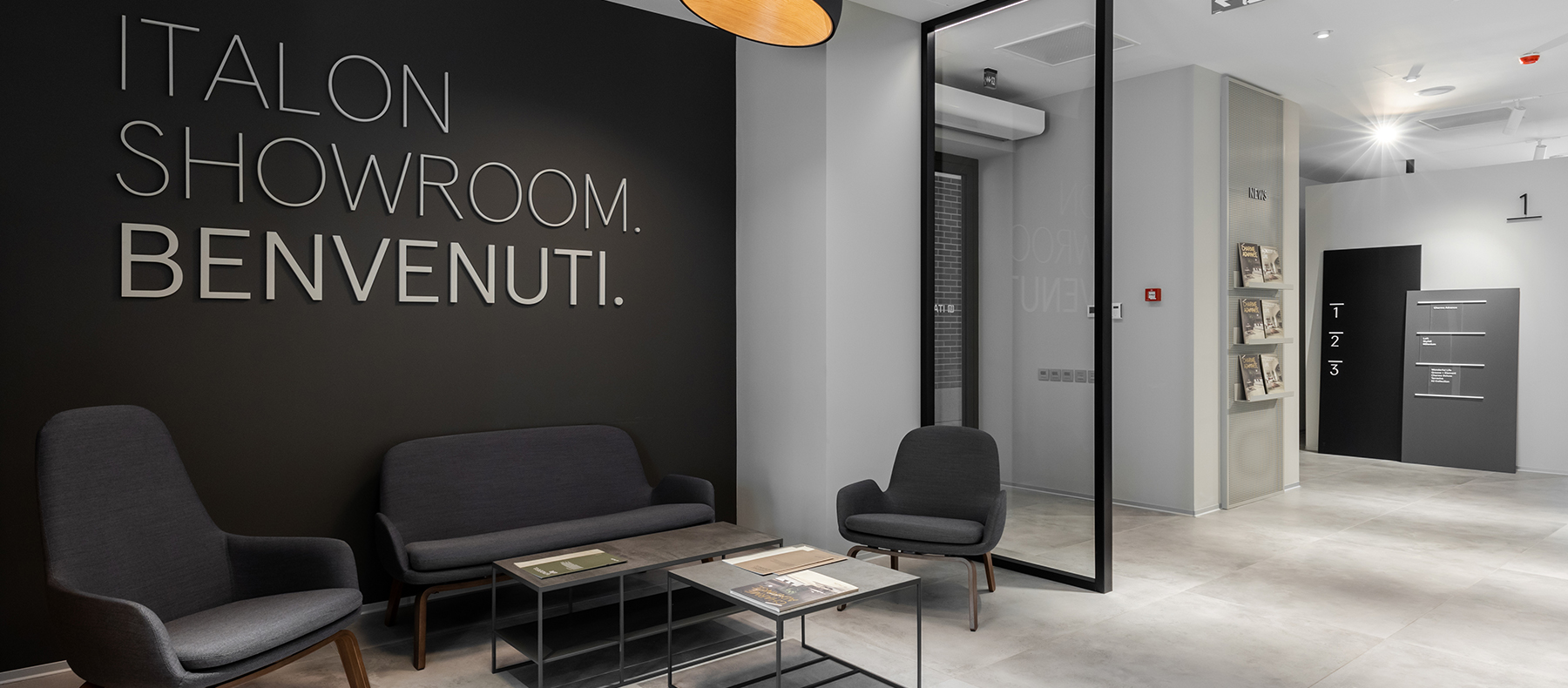 Welcome To The New Italon Flagship Showroom in Moscow
Dozens of ready-made interior solutions with Italon novelties and bestsellers allow you to immerse yourself in the unique atmosphere of each collection and be inspired for the creation of new projects.
Samples of sinks, coffee tables, bookcases and shower trays made of porcelain stoneware complement each interior, so customers can appreciate the high quality of Italon Home products and choose the appropriate model.
Special attention in the showroom was reserved to the Architalon area, which is both an online platform on the official Italon website and a dedicated area in the showroom where designers and architects can work with tile patterns and use special design tools: the perfect place where to meet with customers, select or approve materials for a project, and then walk over to the showroom to see how the material looks in a real-life actual interior to make sure that the choice was right.
Architalon is a unique service that makes working with Italon professional, high-quality solutions extremely convenient.
Please note that the showroom operates only as an exhibition hall and does not carry out retail sales. If you would like to visit the flagship showroom in Moscow, you can book your visit here.
We know that every project is unique and deserves specific individual solutions, which is why we have divided the range of products into 3 lines – Full Design Project, Contract and X2. Each of them meets the different needs of professionals, be it design, price per square meter, finish type, anti-skid rating, or abrasion rating. At the flagship showroom you will find all 3 lines, and the Italon's representatives will share with you the most accurate information from the manufacturer about the features of each collection, helping you choose the best tiles for your project.
We are now closer than ever to you! Making it much easier to see and touch, first hand, our range of Italon products. We look forward to seeing you in Moscow: Shluzovaya naberezhnaya, 2A, RC "I'M".
*Important! Reservation is required prior to visiting the showroom. It is very easy to book a visit: select the date and the time slot of your intended visit in the calendar, fill out the contact information for visitors and you will receive a booking confirmation by email shortly after.
Phone: +7 495 231 01 48
If you are looking for where to buy Italon tiles and porcelain stoneware, we advise you to contact an authorized outlet. You can find all the information on showrooms and their opening hours in the Dealer Locator.