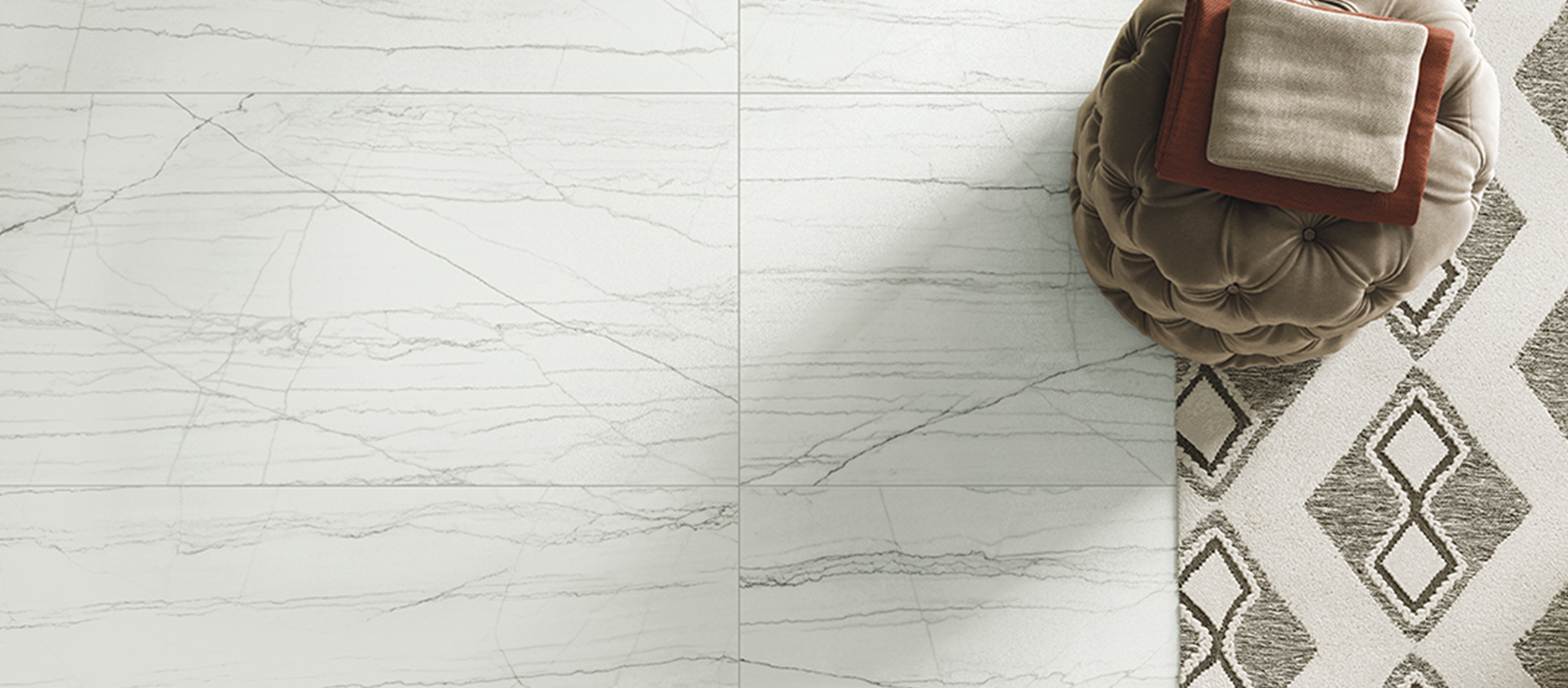 Marble Effect Tiles: Which Shade to Choose
Natural marble can perfectly decorate an interior, but not everyone can afford it. Its cost and technical characteristics limit the wide use of this material. A good alternative, in this case, would be marble effect porcelain stoneware. It has a better wear resistance, it's easy to install and visually it's quite close to its natural analogue.
Marble effect tiles are often used in various design projects. They help implement a luxurious, stylish and incredibly comfortable interior, which will not lose its relevance through the years. In this article, we will tell you what shades of wall tiles and porcelain stoneware are available in Italon's range, so you can easily choose tiles for your project.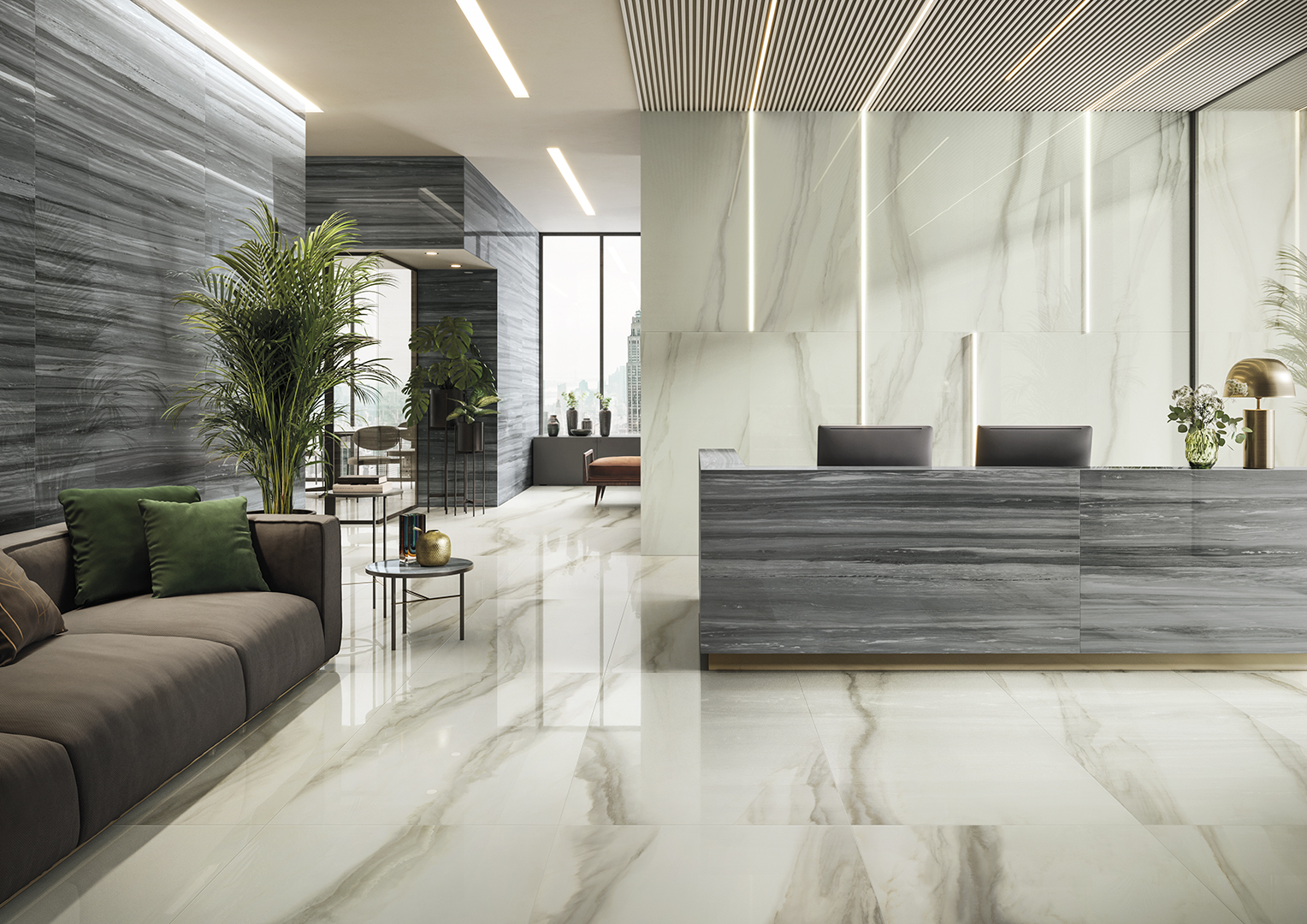 WHITE MARBLE EFFECT TILES
Wall tiles and porcelain stoneware with a white marble effect are in great demand in interior design, as they perfectly embody the sophisticated and noble nature of this material. In addition, white tiles have a number of significant advantages. First, its ability to visually expand any space, which makes it a perfect material for decorating small rooms. Plus, white porcelain stoneware fills the house with light and airiness, giving any space a bright atmosphere of purity.
Another important advantage of white tiles is their versatility: white marble effect porcelain stoneware is suitable for modern interiors with an emphasis on minimalism, and for projects in a classic style. Also, for more interesting combinations, you can mix up warm and cold shades of white.
White "marble" is featured in the following collections:
BEIGE MARBLE EFFECT TILES
Beige tiles can make an interior warmer and more comfortable, creating a relaxing atmosphere in the house. It has an interesting feature: depending on the time of day and lighting, beige can change shades – from pale cream to brown. The sunlight, for example, gives beige marble effect porcelain stoneware an unusually soft golden tone.
Beige tiles are very practical and will fit in any kind of interior. Just like with white tiles, the size of the room will not matter, since beige color does not add "weight" to the space and will not appear oppressive. Beige "marble" can actually fill the space with airiness and it's worth noting that it pairs well with other colors. Beige porcelain stoneware can be used for monochromatic interiors or as a background for brighter elements.
Beige marble effect porcelain tiles are available in the following Italon collections:
BROWN MARBLE EFFECT TILES
Continuing on the theme of warm natural colors in the interior, we advise you to pay attention to porcelain stoneware with brown marble effect. It looks very elegant and sophisticated, and it can be used as a base color or combined with beige tiles for soft color transitions.
Brown porcelain stoneware gives the interior a character of aristocratic restraint but does not take away the comfort. Brown tiles are also great when it comes to setting the necessary accents in the interior. They have an ability to visually smooth out surface imperfections and hide minor defects. For this reason, brown "marble" is often used in private houses and apartments as well as in commercial premises. It is also perfect for luxury restaurants and cozy cafes.
You can find it in the following collections:
GRAY MARBLE EFFECT TILES
Gray is increasingly being used for interior decoration. It has even become one of the top design trends lately. Gray marble effect tiles are very practical. Shades of gray look incredibly stylish and are very diverse, which gives you the chance to use them in a variety of design projects. They are especially suitable for minimalist or classic interiors.
Gray marble effect porcelain stoneware features unique graphics, and an eye-catching unusual texture at the touch. It can be harmoniously combined with other colors, and classic or bold color combinations will create a unique and mesmerizing atmosphere in every space. Moreover, gray tiles will provide high practicality for surfaces guaranteeing excellent performances.
Find the perfect gray marble effect tiles in these collections:
BLACK MARBLE EFFECT TILES
If you are ready to experiment, then we recommend you try black marble effect tiles. Many people are sceptical about using black because they fear it will  visually reduce the size of the room and make it too dark. Well, their loss! Black looks amazing in interiors, really transforming any room, giving it a chic and luxurious character.
Due to the pronounced contrasting veining in the proper geometric shape, the black shade of marble effect porcelain stoneware will seem very intense and saturated; because of that, it can even be used to decorate a small bathroom, for example. By the way, here's a small life hack from designers: if you complement the interior with contrasting light furniture and set the lights correctly, the space will not look gloomy.
We recommend that you pay attention to these Italon collections featuring black porcelain stoneware:
The official Italon website features marble effect porcelain stoneware in a variety of shades and formats (depending on the color). They are suitable for design projects of any complexity and can make a space really interesting and unique. You can find all the information about the nearest Italon outlets in the Dealer locator.