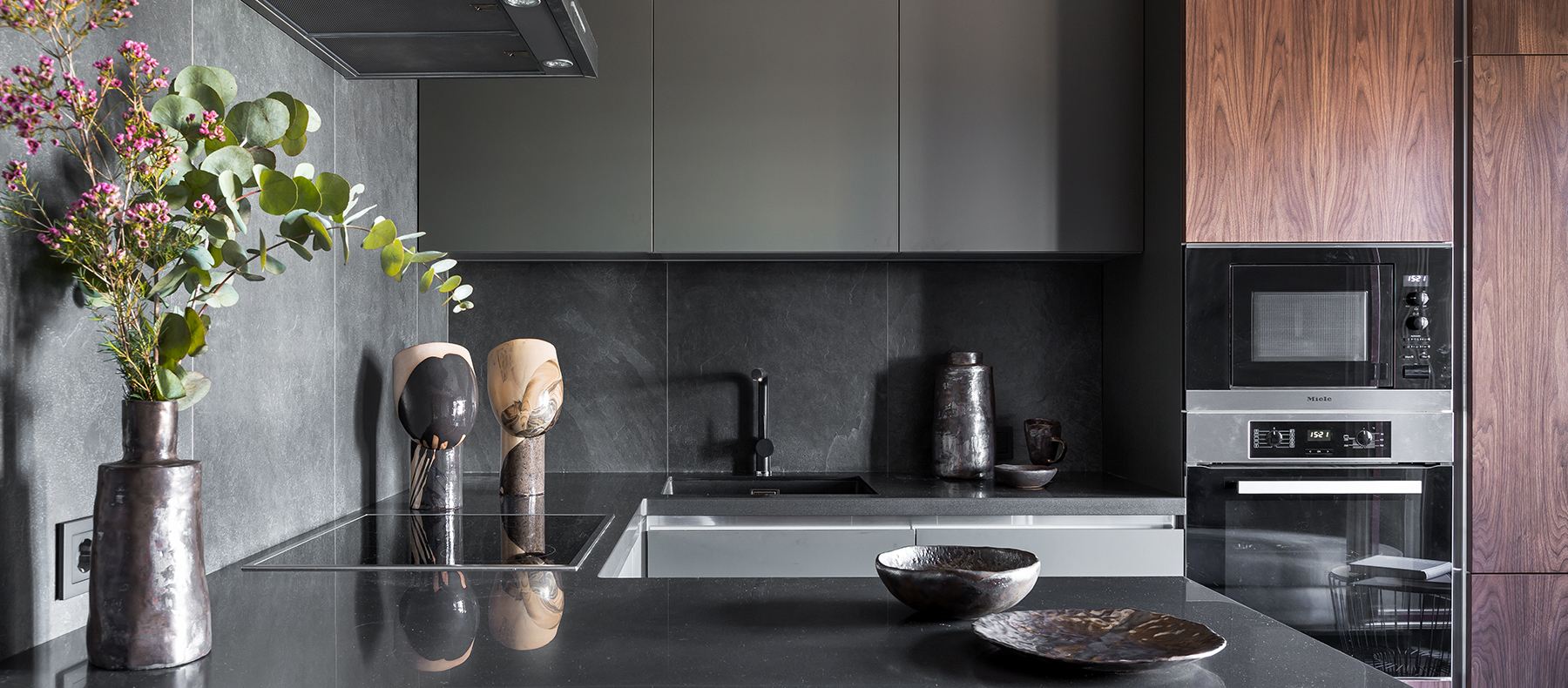 How to design a splashback: 5 stylish ideas
It is very important to be scrupulous about choosing the ceramic tiles for the splashback because it should not only be beautiful and be combined with a ready-made kitchen, but also be practical in terms of maintenance and cleaning.
The porcelain stoneware has proved to be the material that meets all the requirements specified above. It is resistant to shocks, highly durable and, most importantly, resistant to chemicals and to the formation of stains. That's why many people are in favour of giving higher priority to the porcelain stoneware.
So here are our 5 modern and viable solutions for the splash back design that we have prepared for you.
The main benefit of a large format is the ability to make a monolithic lining of the splashback or of all the walls in the working area. In this case there will be fewer laying seams which is very convenient for cleaning the surface. Moreover the design of large format tiles always looks advantageous.
You can find 60×120 sized porcelain stoneware tiles in the following Italon collections:
If you have always been dreaming to decorate your kitchen in mosaic style you should definitely take a look at our porcelain stoneware decor solutions.
The hexagons from the Charme Evo и Charme Extra, multi-textured bricks from the collection Materia, рrhomboid glossy mosaic Dimond or mosaics with artificially aged edges Split from Charme Extra, multicolor decor Strip from the collection Climb or classic mosaic with large pixels from porcelain stoneware will look impressive on your splash back
Each Italon collection has a unique range of decors for every taste.
3.Tiles with exclusive design
If you want your kitchen splashback to be in the highlight and produce a wow-effect, the Surface collection will make it happen.
This collection offers extraordinary and exclusive textures:
two types of metal Corten и Steel,
three colors of glass Cristallo, Ambra  и Diamante,
three unique types of marble  – Onice Miele, Eramosa и Astrus.
We guarantee that porcelain tiles from the collection Surface will attach individuality to your decor.
.
4. Moroccan and patchwork tiles
Porcelain stoneware with vivid patterns will animate the space and create cozy and warm atmosphere in your kitchen.
The Artwork collection offers five decors in various artistic styles and three basic colors to create the compositions that will seamlessly fit into modern interiors.
5. Wood, Marble and Stone look porcelain tiles
Three textures, such as wood, marble and stone, have been at premium at all times and still do not lose their relevance in creating magnificent interiors. This solution would go great for the interior of the kitchen, decorated in any style: in a modern, rustic, vintage, classic or country style.
17 Italon Collections can help you to realise your ideas using these three textures.
Every option of the splashback linings, offered in this review, is not under control of trends changes and will not bore you as the years go by, and most importantly, these splash backs are easy to clean.