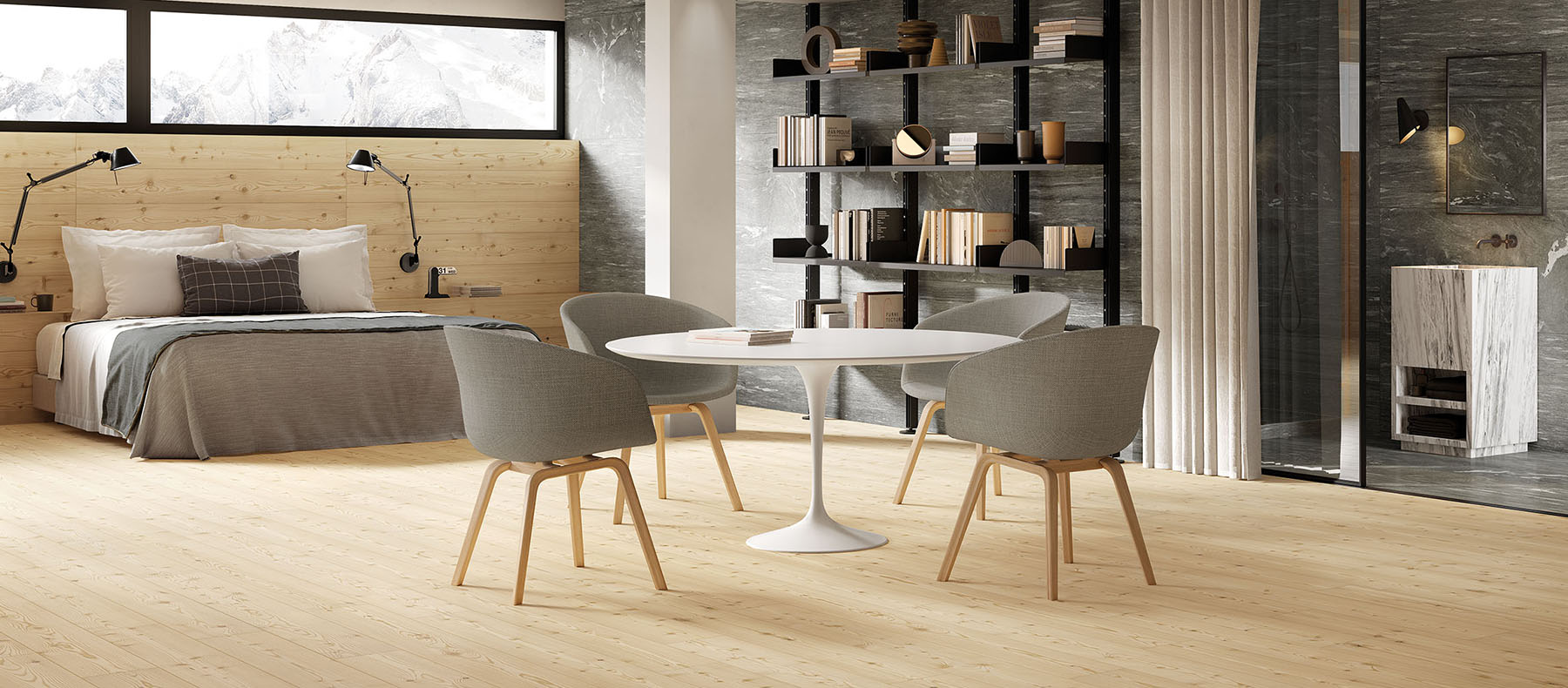 How To Create A Scandinavian Style Interior
Scandinavian style, indoor, is characterized by the use of natural materials such as wood and textile, and the predominance of white and light colors. These elements help create a warm and welcoming atmosphere in the room, combining functionality and minimalism, distinguished by environmental friendliness of materials, strict lines and laconism. The purpose of this article is to share interesting ideas on how to create Scandinavian interiors using Italon collections.
1. SPACIOUS SCANDINAVIAN STYLE BATHROOM
The combination of wood and white is a classic in northern interior design, one that will never go out of style. To design a cozy bathroom, we used tiles from two different collections: Element Wood, in Acero 60×120, and 3D Experience, in Line and White 40×80.
Element Acero is a wood effect porcelain tile with matt finishing that flawlessly recreates the beauty of untreated maple wood. Its warm, light shade with contrasting brown veins is ideal for a Scandinavian bathroom floor. The matt finishing will ensure safety, while the technical characteristics of porcelain stoneware allow for the presence of an underfloor heating system.
White Matt tiles, 40×80, are perfect for walls: their delicate, velvety texture captivates with its soft silkiness at every touch. At the same time, 3D Line tiles add a dynamic feel thanks to their stunning texture, creating a nimble and weightless atmosphere. Despite their volumetric texture, these tiles feel like silk: smooth, pleasant to the touch, reflecting light as a gentle and graceful shine.
Remember that the Scandinavian style does not tolerate an excessive amount of objects and decors in a single room: the smaller the bathroom, the less accessories and furniture you should have.
2. SCANDINAVIAN STYLE KITCHEN
A true Scandinavian-style setting cannot be achieved without using a wooden or wood effect surface. For the kitchen, we used Loft Honey 20×160 brown porcelain stoneware with matt finishing. It is almost impossible to tell this extraordinary tile apart from natural wood. Knots, veins, cracks, strong color contrast… just like real oak wood!
We have decorated walls with micro textured wall tiles from our Room collection, White Texture, 40×80. These unique white tiles imitate textile materials and are very unusual to the touch, adding zest to the kitchen interior. Porcelain stoneware Surface Ocean was perfect for creating accents: fresh, modern, dusty blue tiles adding a touch of brightness, and drawing attention to its stunning honed sating finishing. Please note that the technical characteristics of this tile allow it to be installed exclusively on walls.
3. COZY NORDIC BEDROOM
The Skyfall collection is the true embodiment of Scandinavian style. For the bedroom, we used light wood effect porcelain stoneware (Larice), stone effect tiles (Grigio Alpino), and fabric effect tiles (Blue Texture) for the walls. Three different materials (wood, stone, and fabric), that complement each other, creating a special, warm atmosphere to unwind after a long day.