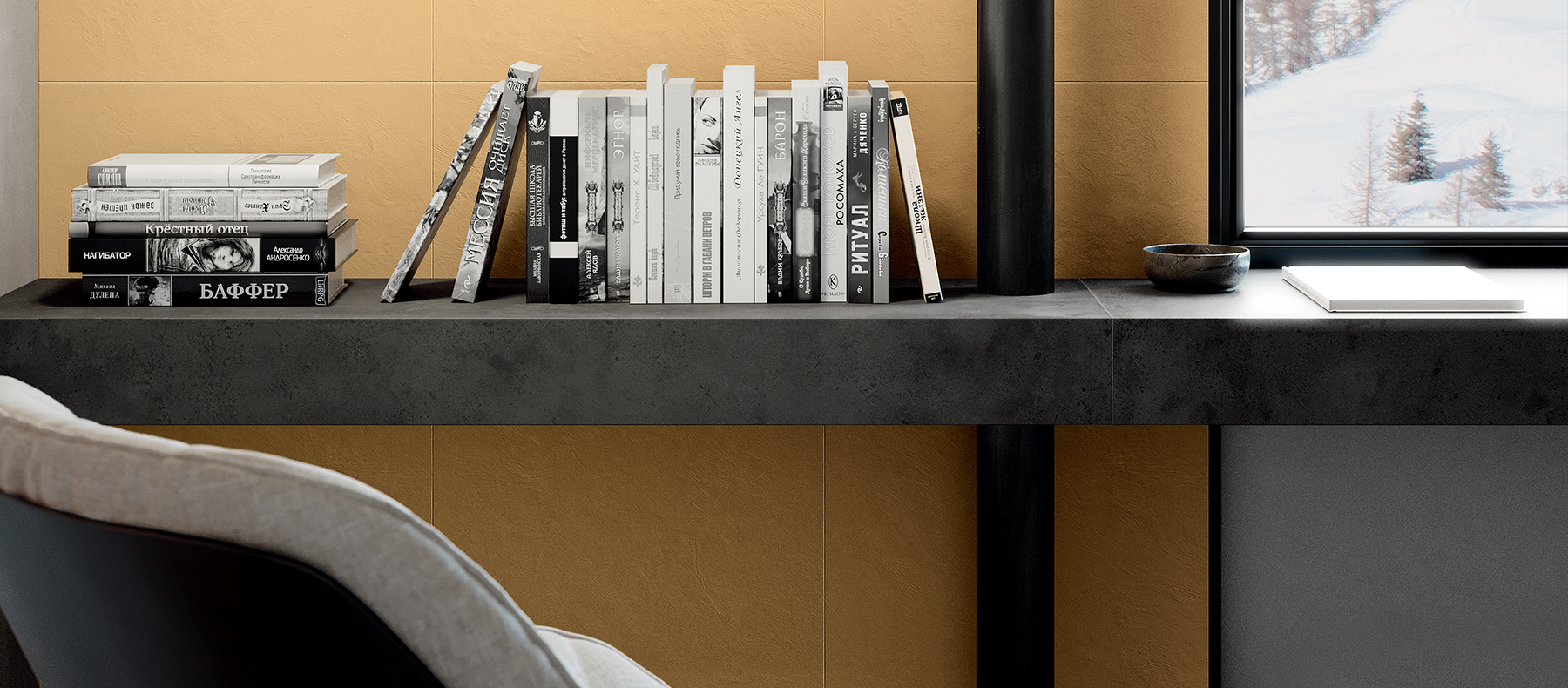 How to Choose Tiles for a Balcony
This year the balcony has become the most multifunctional space in everyone's apartment.
It could be a study, a recreation area, a storage space, a greenhouse, a library, or even a gym. In this article, we will share interesting design ideas and tell you about the most practical finishing materials for a balcony.
The stylish balcony project by @shugaeva.design was realized using a pleasant gray-beige color scheme.
The floor features dark gray Charme Evo Antracite 60×120, marble-effect porcelain stoneware with matt finish.
Using gray shades in design is practical and modern, paving the way for fun as well as relaxation.
Neutral tones never get boring, besides, such a setting can easily be transformed with just a few accents like a bright blanket, colorful pillows, or a vase with a bouquet.
A cup of aromatic coffee with a view of your favorite city will surely improve your mood!
A lovely glassed balcony with an area of ​​8 sq.m. is the perfect place to spend time with your family and friends or enjoy some me-time.
For the floor, the author of the project – @krylova_design – used everyone's favorite light gray marble-effect porcelain stoneware, Charme Evo Imperiale 60×60 with matt finish.
These tiles are an ideal finishing material for a balcony, they have a long service life and daily maintenance is quite easy.
Comfortable armchairs complement the design, and turn the balcony into a perfect spot to spend time with loved ones.
In modern apartments, the balcony is no longer a storage place for unnecessary things.
More and more often, designers are turning this area into a cozy recreation space.
Using only 3 sq.m. designer @alexey_volkov_ab managed to create a stylish space for pleasant evenings on the balcony.
Once again the floor features  light gray marble-effect porcelain stoneware, Charme Evo Imperiale 60×60 with matt finish.
The gray shade in the design of this balcony provides the space with lightness and elegance.
Furniture in matching colors visually expands the space and creates an atmosphere of comfort.
You can't really surprise anyone with an office on a balcony anymore, but you can still surprise them with its design!
In a laconic and minimalistic space, designer @alevtina_interior_design used classic white marble-effect tiles: Calacatta 60×60 with matt finish from the Charme Evo collection.
In the middle of a busy working day it will remind you that you are still at home in a calm, warm, cozy atmosphere, because the same tiles are featured as the finishing material of the most comfortable rooms in the apartment.
White marble-effect tiles fill the space with light and air, providing any room with a bright and clean look.
Making a studio out of a balcony is a great and practical idea.
In this project, a cozy working area on the balcony has become a natural continuation of the living room thanks continuity of style.
For the floor, @redbox_design used stone-effect porcelain stoneware, Genesis Saturn Gray 60×120 with matt finish, vaguely reminiscent of terrazzo.
The neutral shade of the tiles helps focus and will tune you into your work rhythm.
Since the premises of the apartment are visible from the balcony, choosing the same style for the floor was a very wise decision.
Having breakfast and working on the balcony is extremely pleasant.
A beautiful view from the window, stylish design with spectacular porcelain stoneware on the floor, Charme Deluxe Statuario Fantastico 60×120 with honed satin finish, all contribute to establishing a creative atmosphere.
Unusual vibrant graphics and dynamic streaks of Statuario Fantastico create a very warm and cozy atmosphere in the unique balcony project.
The authors – @klukvakaluga – turned a window sill into a countertop.
This functional solution helped to use every square meter of a narrow balcony wisely.
Choosing to turn a balcony into a cozy recreation area, a studio, or a mini-gym is entirely up to you. The Italon range of porcelain stoneware will provide practical and durable materials for every taste and need. You can view the collections and buy tiles from authorized Italon dealers by looking up the nearest store in the Dealer Locator.