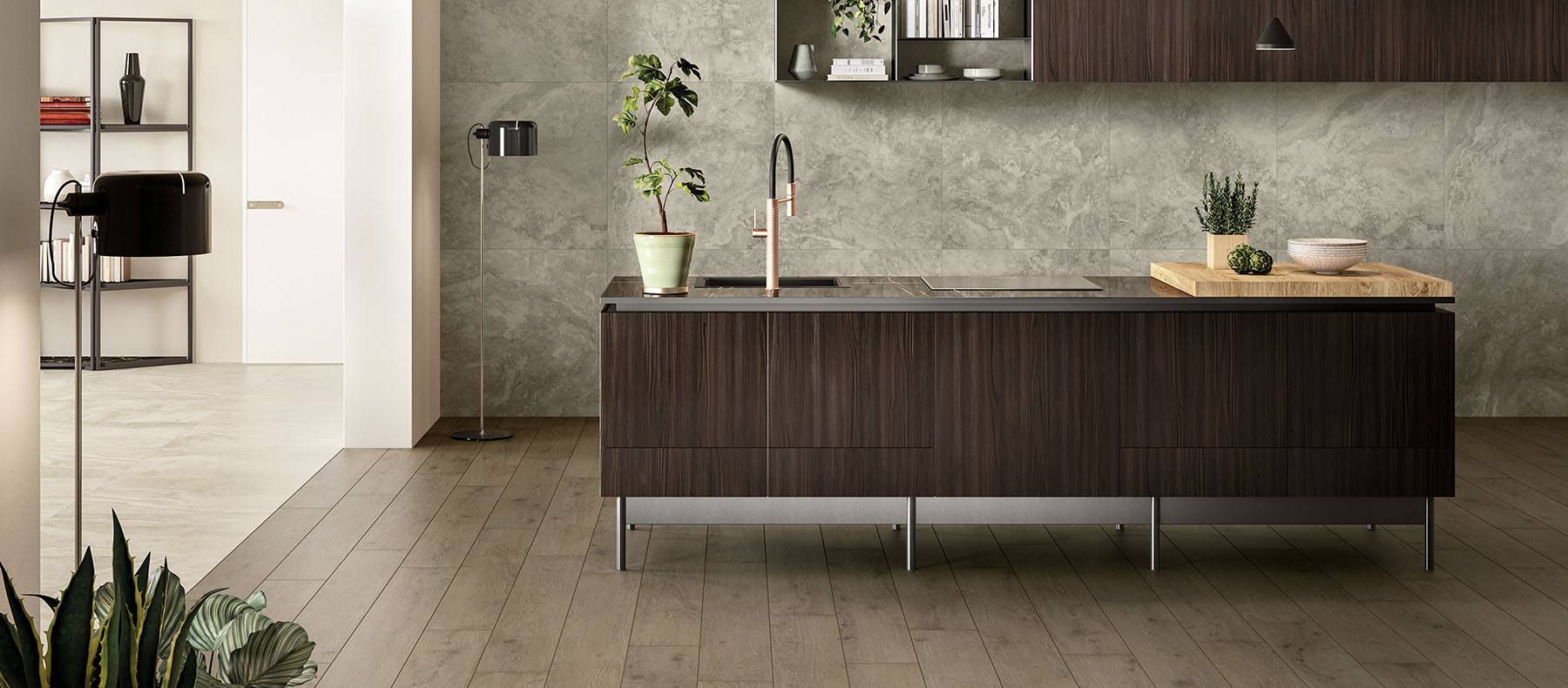 Wonderful Life: Natural Dialogue
Wonderful Life collection from Italon presents two types of porcelain stoneware: one inspired by Rapolano travertine and one recreating the natural look of brushed oak. Expressive veining, soft texture and unique color transitions convey all the charm of natural materials within these collections. Together, they provide a perfect starting point for outstanding, unique design solutions.
The purpose of this article is to provide insight into how to create a sophisticated Mediterranean interior using The Wonderful Life by Italon.
Harmonious Combinations
Wood-effect tiles and stone-effect porcelain stoneware achieve harmony within interior settings inspired by nature. The Wonderful Life is perfect for anyone looking to recreate the magical charm that is to be found in the outside world.
Light shades of Pure and Honey will make it possible to visually amplify the perception of space.
Due to an unusual play of lights, they will make any room lighter and more airy. Meanwhile, the gentle and neutral tones of Almond and Ash will add coziness to every setting.
These shades could be used as a key accent in the design or easily become an excellent background to brighter elements. If you want to implement a more vibrant and bold design, turn to Graphite and Pepper, which are striking in their saturation and depth.
The Wonderful Life collection is also characterized by a very wide range of decors. With the help of Brick Multicolor, you can bring to life the most daring creative ideas. The Play decor is presented in four variants, allowing you to use different installation patterns.
Meanwhile, Tatami decor imitates wooden slates, a true find when you need to add eye-catching accents to a design. If you're looking to add dynamism to your room, try using the geometric mosaics.
Incredible Coziness
Stone-effect porcelain tiles in the light Pure shade are ideal for living spaces. The square footage of the room will not matter since this material provides light and visually expands any space. As a result, the design will be cozy yet extremely refined and spacious enough to be pleasant.
The charming texture of Rapolano travertine will be well complemented by Pure Mosaic Cross. This option is especially appreciated by those who prefer being close to nature.
Practicality
If you value practicality above all else, we recommend opting for a combination of Pepper and Graphite shades. T
hey are suitable for living rooms and kitchens in residential settings. Plus, they are perfect when it comes to arranging open spaces within an office. These shades allow for the creation of functional areas within a single setting.
A result that is achieved through color contrast in the design of each zone.
The deep shade of Pepper porcelain stoneware recreates the fine beauty of dark oak, a perfect choice to combine with the more neutral shade of Graphite when decorating walls.
An extremely elegant and versatile duo that provides a fresh take on the latest trends in design.
Relaxing atmosphere
Stone-effect porcelain stoneware in the noble Almond shade is just perfect to decorate bathrooms. The soft natural color instills a sense of peace, helping relieve stress after a hard days' work.
If you're planning on installing a free-standing bath, consider dedicating a carefully decorate area using the Frame mosaic. Its curved lines seamlessly intertwine in a graceful, rhythmic pattern. This decor can enliven any space thanks to its modern and minimalist design, characterized by elegance and functionality.
Refined Design
Stone-effect porcelain stoneware in the Graphite shade, with its exquisite nuances, recreates in detail the natural beauty of Tuscan travertine.
The airy grayscale pattern visually expands the space by adding depth with its winding lines, reminiscent of the natural layers within the rocks in the Tuscan quarries. Opt for the Tatami decor if you want to further highlight its natural beauty.
The Play Crystal decor in a deep shade of blue will also serve as a spectacular addition.
Featuring crisp golden lines that create unique motifs, this decor will make a lasting impression at first sight, creating a truly magnificent effect within both residential and commercial spaces.
Timeless Classics
If you wish to create a setting inspired by classicism, opt for a combination of porcelain stoneware in warm tones like Pure and Honey. These shades complement each other and add incredible depth to the overall color scheme, perfectly emphasizing the innate charm of natural materials.
Inspiration will flow, and creative solutions will be enabled by the installation of the Brick Multicolor decor. It combines contrasting shades and stone patterns, opening the door to a limitless scope of design solutions. A wonderful addition to brighten up the space adding a light accent to one of your walls.
You can add warmth and comfort to your space with the noble brown shade of Play Moka decor. Its golden geometric pattern fills every interior with a special, dynamic vibrancy.
Expressiveness and Freshness
The perfect design solution for commercial spaces such as restaurants, would be a combination of wood effect porcelain stoneware for your floor and Almond, Italian travertine stone effect tiles on the walls. Two different textures to give the space a unique look and a warm welcoming atmosphere.
The expressive stone patterns combined with the demure elegance of oak wood is always a win-win.
Make the space more airy by filling it with necessary accents using Play Snow decors. They are the perfect match to the shades of The Wonderful Life collection. Plus, its elegant, bright tone will fill the space with light.
Play Wood is a wood effect decor designed to create a unique accent when installed on a wall. Its deep color and expressive texture brings forth a natural dimension of design.
The Wonderful Life collection offers a wide range of textures, shades, formats and decors. It will help you realize the most daring design projects. Visit our "Showrooms" section to find the closest authorized dealer to you, where you'll be able to ask for assistance and purchase even the latest collections from Italon.