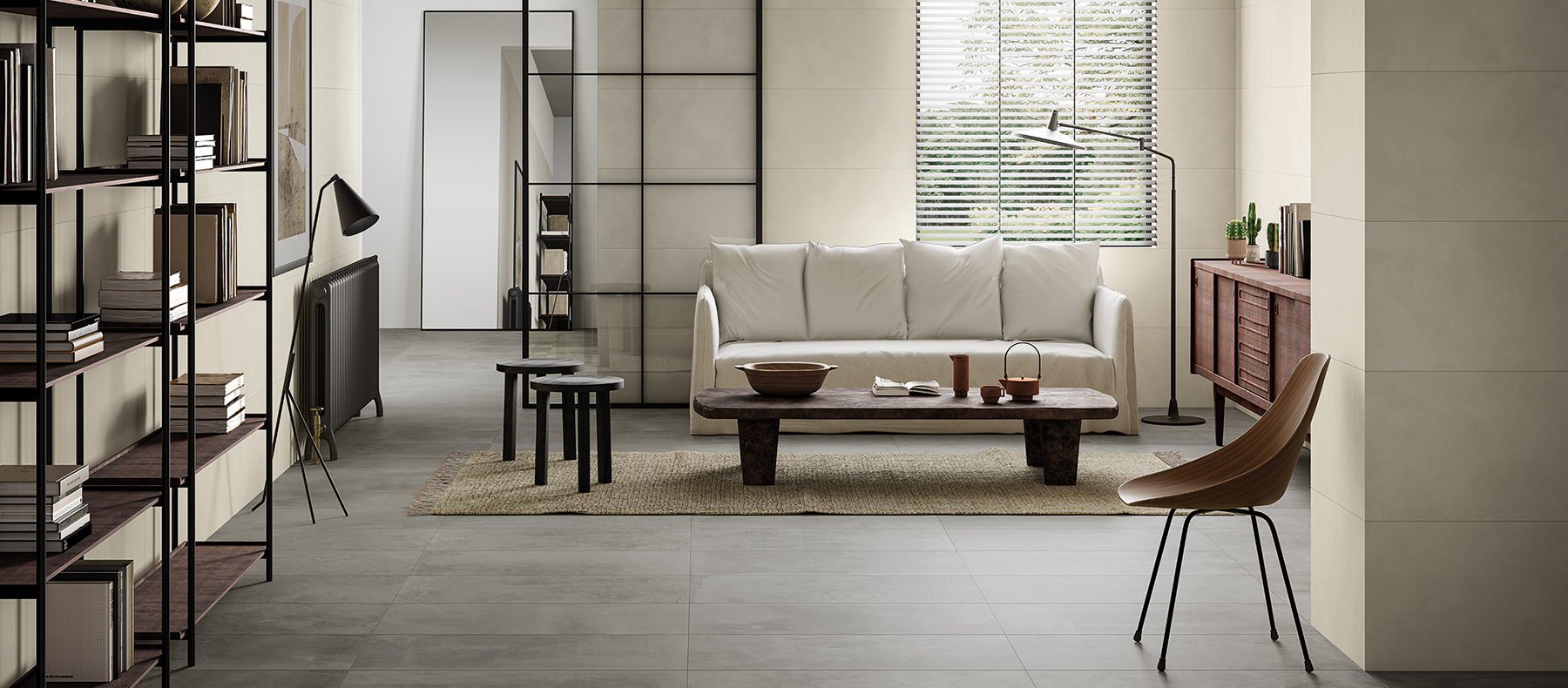 How To Get your Rental Apartment Ready for Tenants
Renting out an apartment can be difficult: it's not just about finding suitable tenants, but also about properly arranging the place for the tenants themselves. Usually, owners prefer not to spend much on repairs – or skip repairs altogether – and reduce monthly rent accordingly. Today, we want to look at a few ways to fix and transform your apartment in a cost-efficient manner, getting it ready to be rented out.
Recently, gray has made its way into the world of interior decorations, including rental apartments.
It comes in a wide variety of shades, making it easier for it to fit your project, plus it's incredibly practical and suitable for kitchens, bathrooms, living rooms, and even bedrooms.
Make no mistakes: gray will not make your interior look dull: on the contrary, it'll make it stylish.
Gray porcelain stoneware from our Terraviva collection, combined with Neve wall tiles, will fill the apartment with light, making it more comfortable and welcoming. If you want to highlight functional areas in the room, we highly recommend using decors: gray shades from Terraviva will work best with a gray mosaic grid decor.
You can also choose the Silver tone from our Millennium collection: its color scheme will provide a functional outline to your space, making it practical and convenient. It's a great choice for anyone looking for a contemporary feel.
WARM BEIGE
Beige is a universal color suitable for all kinds of rooms and environments: it will perfectly fit the living room and bedrooms of any rental apartment. It'll also work great for one bedroom apartments or studios, where several areas need to be visually partitioned within a single space.
Shades of beige instill a sense of safety and tranquility, they create a calm atmosphere to escape the hustle and bustle of every-day life. In addition, beige porcelain stoneware adds a sophisticated touch that will never go out of style, making it one of the most popular shades for interior design.
To decorate a rental apartment in beige tones, we highly recommend wood-effect porcelain stoneware from our Loft collection: its soft shades will transform any space into a soothing environment. Alternatively, porcelain stoneware from the Room collection will provide character to your room; beige is the best choice when it comes to striking a heterogenous balance in the tone of your tiles, creating a sort of dialogue between different nuances that seamlessly blend within a single space.
EXPRESSIVE WHITE
Don't be afraid to use white in your interiors!
Rental apartments tend to be quite cozy, and not particularly spacious, which is why it's very important to visually expand the room, filling it with light and air. Using white tones will do just that!
It's not necessary to dwell on standard options such as painting the walls white or choosing white wallpaper: we rather advise you to look at more creative solutions, like the 3D Experience white clay wall tiles from Italon.
The use of three-dimensional tiles is one of the main trends in interior design: 3D effects add originality to the space and, of course, a sense of delicacy and brightness.
White, complemented by a three-dimensional geometric motif, will incredibly enliven the design of the apartment.
GEOMETRY, FLORISTIC PATTERNS AND FLORAL MOTIVES
You can make the design of a rented apartment more interesting by adding unusual decors and extra elements to the interior. This is a creative solution for those who want to make an apartment truly unique for future tenants.
With the help of abstract figures and drawings, it will be possible to partition the room into functional areas, adding accents or playing with monochromatic range. Geometric patterns will look great in classic and retro style interiors, as well as Scandinavian style spaces.
Floral patterns will make the apartment fresh, following a natural theme. For example, Inserto Foliage 25×75  with leaf fantasy, paired with contemporary Petrolio wall tiles from the Groove collection and wood effect porcelain tiles, will give your bathroom a spa salon feeling.
Inserto Ninfea and Inserto Bouquet 25 × 75 decors, with graceful floral graphics, will fill the apartment with a happy atmosphere to help tenants be in a good mood every day. These decors are similar to ceramic wallpapers and can be installed on the entire wall.
However, remember not to overdo it with drawings! They should decorate the interior without cluttering it: an excessive abundance will make the room feel smaller.
MINIMALISM
Designers often warn against adding unnecessary details to a rental apartment: it's important to leave room for creativity to your future tenants, as they will surely appreciate the opportunity to add their own decors to their home.
That is why rental apartments are often decorated according to a minimalistic taste, which brings us to concrete effect porcelain stoneware, the best choice to achieve such style.
Concrete effect tiles from the Millennium collection perfectly emphasize the functionality of the room.
You can add some bright shades using tiles from the Surface collection, making sure the interior is not boring and overly strict, highlighting specific areas by adding contrasting accents to cheer up the atmosphere.
Generally speaking, the incredibly wide range of products from Italon will greatly help you find the best surfaces and materials to make your rental apartment truly appealing to future tenants.
Our updated Dealer Locator will help you find the nearest authorized dealer or Italon Experience showroom. You will find a wide range of tiles and the advice of expert professionals.