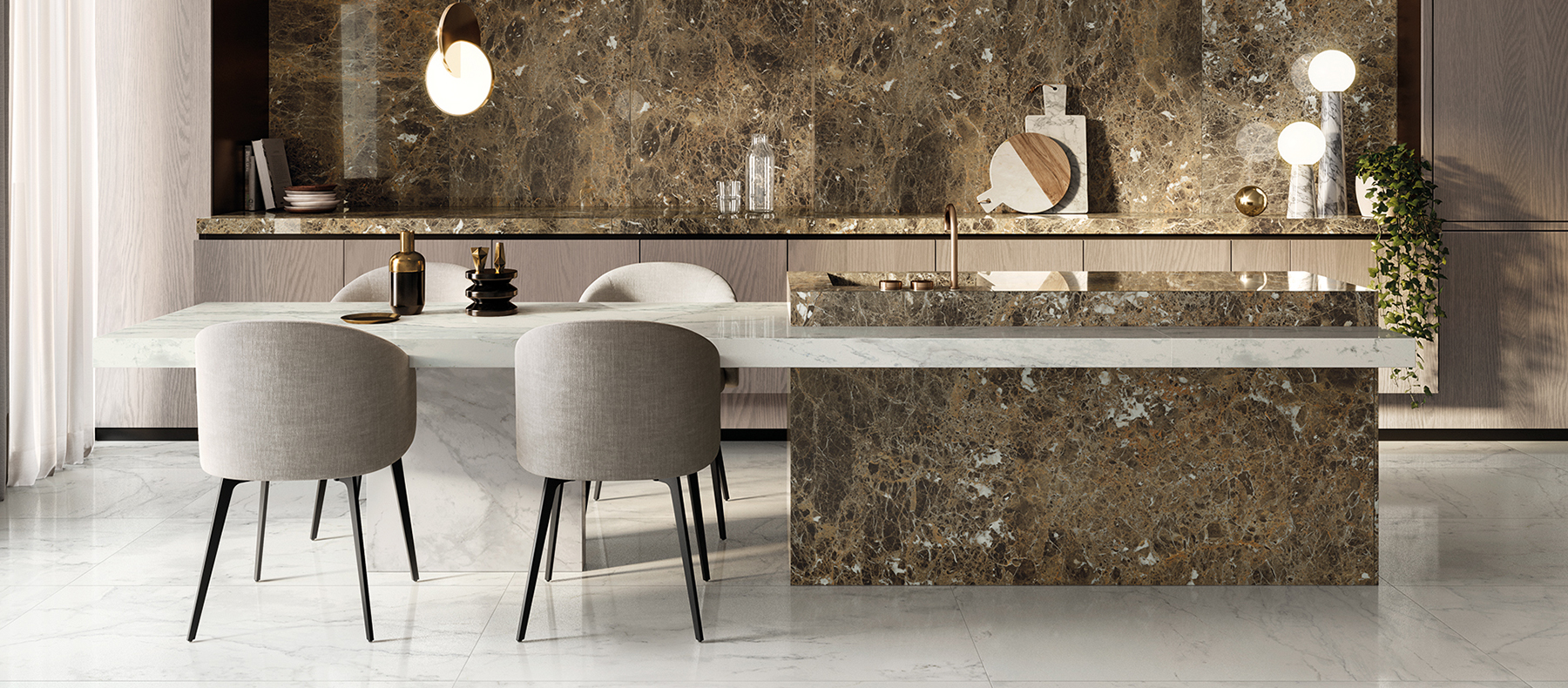 Kitchen Tiles: Floors and Backsplashes
Elegance, style and functionality in every detail: these traits define contemporary kitchens designed for comfortable every-day use. In this article, we will answer one of today's most popular questions: which tiles are most suitable for a kitchen?
When shopping for kitchen tiles you should consider all of Italon's collections of porcelain stoneware and wall tiles. The technical characteristics of our porcelain stoneware products make them the ideal choice for both walls and floors, contrary to ceramic tiles which are only appropriate for walls.
THE KEY TO A TRENDY KITCHEN BACKSPLASH
The kitchen backsplash is one of the most noticeable elements of any kitchen: it can transform the entire look of the whole room. However, a backsplash's first function is not to define your design, but to protect it: it has to withstand high temperatures and is likely to get dirty. That's why porcelain stoneware is the most practical solution: all you need to do is choose your favorite texture, size and finish; as for maintenance, you won't have to worry about it thanks to its easy-to-clean nature!
CHOOSING THE RIGHT COLOR FOR YOUR KITCHEN BACKSPLASH
Thoroughly selected textures and their balanced combination are key to a refined and comfortable interior. Light hues are always a winner when it comes to kitchens, and it's not just about cool white, the selection of lighter shades is vast: pale pink, soft beige, ivory, warm vanilla, etc. Everyone can find an ideal solution that fits both their taste and their kitchen design,
A light kitchen backsplash appears refined, fresh and modern and is a great fit for almost any kitchen style. If you have a small kitchen, this is a must-have, as off-white shades visually give a perception of larger space. Plus, from a practical standpoint, there's nothing better than porcelain stoneware, as it withstands extreme temperature changes, resists chemicals and is easy to maintain.
If you want to add bold accents, the easiest way to spice things up in a minimal interior is to add a touch of color. You might want to look at bright porcelain stoneware, for example from our Surface collection, and no matter which Surface color you choose, it will help your kitchen stand out, because our Surface collection was specifically created to include unique textures for interior accents.
If you want to create a one-of-a-kind kitchen backsplash, you can achieve an exciting mix of shades drawing from our Element Silk collection of colored wall tiles. The result will undoubtedly be stylish and unique.
Whereas if your goal is to emphasize the elegance of a gray kitchen, then your choice should definitely fall on marble effect backsplashes from our Charme Deluxe, Charme Extra, or Charme Evo collections. This exquisite range of marble effect porcelain stoneware will display your sophisticated taste, while the unrivaled functionality of this premium material will help you keep your kitchen clean.
CHOOSING THE TILE FORMAT FOR YOUR BACKSPLASH
This choice depends on your project as the number of options for a kitchen backsplash is countless. To guarantee the minimum cleaning effort we recommend using large-format porcelain tiles. The larger the tile format, the fewer the grout joints, which are most inclined to get dirty. For example, a kitchen with a length of 4200mm will only require four, 60×120, tiles. Installation is also extremely easy and holes for sockets can effortlessly be drilled without chipping.
If you want to diversify your space but maintain a uniform and coherent style, you should pick mosaics from the same collections you have used for your floors. That's always a win-win solution! For example, the graceful marble effect Invisible Strip 26×75 from our new Charme Deluxe collection will provide elegance and a sophisticated touch to your kitchen backsplash. Whereas, if you want to create a modern eco-style, one of your best bets is the Cross 31.5×29.7 mosaic from our Room or Genesis collections. Mosaics' pixels are artificially aged to present a slight vintage effect, giving your kitchen backsplash a unique charm.
CHOOSING TILES FINISHINGS FOR YOUR BACKSPLASH
This is an easy one given that any finishing will work perfectly, except for structured or grip finishings, which tend to be harder to clean because of their embossed surface. Therefore, when choosing tiles for a kitchen backsplash, go for porcelain tiles with natural, polished, honed satin or lux finishings.
CHOOSING TILES FOR THE KITCHEN FLOOR
The floor is a fundamental element of design when it comes to continuity and consistency; it can either function as a neutral foundation or as a strong main accent. As you know, cutlery, dishware and food can all fall and either damage or stain the floor, which is why porcelain stoneware is the ideal finishing material for kitchens.
Plus, it comes in a variety of mesmerizing designs bound to match anyone's expectations, thanks to its superior performances and ease of maintenance.
There are contrasting views in regard to the design of the backsplash and floor within the kitchen: some people think they should follow the same style for a matter of consistency, while others believe it would be a sign of poor taste and prefer to create stylistic contrast.
We believe both choices are respectable, depending on the designers' goals and taste.
If you want to visually bring together a small kitchen space, we recommend decorating the backsplash in the same style and with the same tiles as your floor and dining area.
A contrasting design, on the other hand, has a very different charm and appeal, looking contemporary and lively. Consider, for example, the unique combination of gray Millennium concrete effect tiles for your backsplash, and Surface blue steel porcelain stoneware for the floor; or a combination of Charme Extra black marble effect porcelain, and Materia stone effect beige tiles.
Here's another interesting idea to achieve a unique kitchen design: accentuate the dining area using an elegant "carpet" – a luxurious carved panel made of Charme Extra porcelain tiles with geometric (Intarsio) and floral (Rosone) motifs. The central panel tile – Charme Extra Intarsio Fascia – can easily be arranged in the middle of a beautiful square or rectangular shape. This decor is waterjet cut and sold on a mesh for an easy installation; it is a highly impressive option.
Kitchens should be designed paying attention to the smallest details. Therefore, here are few extra tips you should bear in mind. First, thoroughly think about lighting solutions, especially over the cooking and dining areas. There should be enough light to keep the kitchen cozy, even at nighttime. Also, set up your "working triangle" area in advance: stove, sink, and refrigerator. Decide the sockets placement before you begin construction or renovation and make sure you've included a sufficient number of them. Do the same for what concerns storage space, another crucial aspect of your kitchen's functional design. Lastly, plan the location of your built-in appliances beforehand: they should be placed at a convenient height to help you in the comfortable creation of culinary masterpieces.