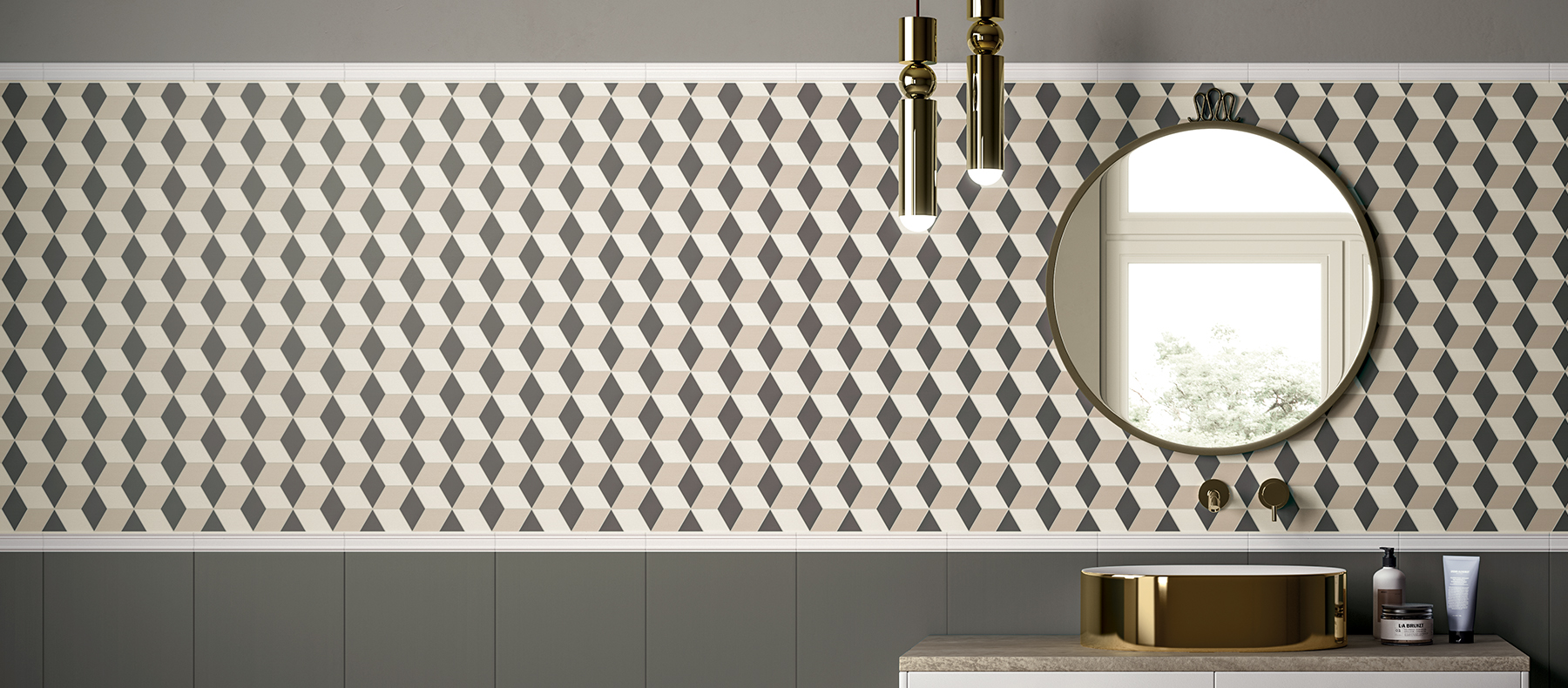 Interior design trends: decor with geometric patterns
As Cersaie 2019 showed, porcelain stoneware and ceramic tiles with geometric patterns continue to be one of the main trends in interior design. Such material allows you to make many different combinations. We will tell you how to use the geometric pattern in interior design.
How to use geometric patterns
Such geometric patterns as stripes, squares, rectangles, circles and ovals are used for interior decoration most often. They are presented in various sizes, which makes it easy to select elements for a specific design project.
However, before you buy tiles with geometric patterns, it is worth paying attention to some rules.
1. Horizontal and vertical stripes can visually expand the room in the appropriate direction.
This can be used if you need to modify a narrow room or a room with a low ceiling.
2. Geometric patterns attract a lot of attention. Therefore, it is better to combine it with a plain background.
Neutral shades will balance the colorful pattern. Minimalist furniture and home furnishings are also recommended.
3, If you have chosen small contrasting details, then it is worth considering that they can be a little bit bright. For this reason, it is better to place them on small architectural elements. Geometric patterns should indicate the center of the room.
For a small room, one such corner is suitable, but in the spacious living room you can make several of them.
Where to use geometric patterns
You can find design with geometric patterns in many ceramic collections. Abstract patterns and various figures can give dynamism to the interior and make it more vivid. At the same time, one of their most important advantages is that they are excellent for interior decoration of any style.
The stripes will complement the design made in retro or classic styles. For modern interiors, it is better to choose geometric shapes. Geometric patterns perfectly complement the minimalist and Scandinavian styles, even if we are talking about the design of a small room.
By the way, for creating interesting geometric combinations you can use Italon porcelain stoneware. The Charme collection, for example, has Charme Perl Inserto Loop Lux and Charme Perl Inserto Frame Lux decors, with which you can create incredibly beautiful patterns.
Geometric patterns will allow you to dilute the monotony of the interior, create bright accents and fill the room with a special atmosphere.