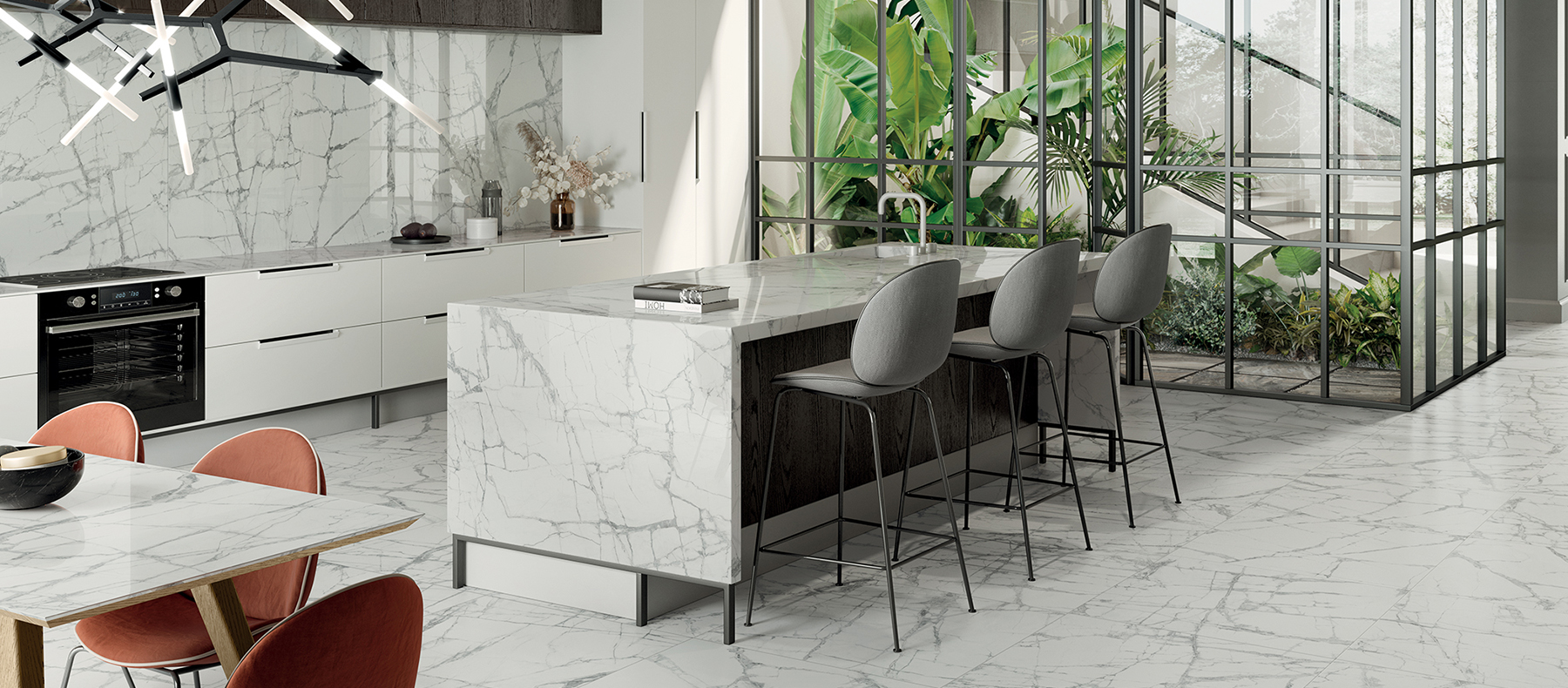 Interior design begins with the kitchen
The kitchen is the heart of the house. It's where we start our day with coffee and a tasty breakfast, have pleasant family dinners, and enjoy Sunday brunches with friends. Its multi-purpose nature and functionality set it apart from the other rooms in the house. Thus, one should be very careful when designing this space, particularly when choosing kitchen tiles.
5 Important Rules of Kitchen Interior Design
1| Practical materials
When designing the kitchen, it is very important to use practical and durable materials that do not require special care.
Porcelain stoneware is a perfect finishing material in many ways: it comes in a variety of textures and graphics, has excellent technical specifications, and is easy to clean.
2| Backsplash design
For an accent kitchen backsplash, choose porcelain stoneware tiles with bold and stylish graphics while keeping the floor color neutral. Or vice versa: choose a toned-down and practical color for the backsplash and brighter porcelain stoneware tiles with an unusual design for the floor.
3| Tile size
Decide what porcelain stoneware tiles you'll be using for your kitchen in advance. Italon offers an extensive range of tile sizes for all kitchen sizes and designs. The 6 mm thick 120×278 maxi size is perfect for both kitchen islands and seamless backsplashes.
4| Lighting
The kitchen needs quality and well-thought-out lighting, most of which will be bright. Ceiling spotlights, lamps over the dining table, sconces, and LED backsplash lighting will make your kitchen more attractive and allow you to place accents and highlight every detail of the kitchen interior.
5| Storage
A kitchen needs to be roomy, so organizing proper storage space will be one of your main tasks during the design stage. Outline the "golden triangle" of the stove, sink, and refrigerator in advance and prepare a sufficient number of cabinets for the lower and upper levels of the kitchen. Take maximum advantage of the corner cabinets, adding open shelves if necessary. It's vital to organize a comfortable cooking and storage space with everything you use daily at your fingertips.
Ageless Trends
One of the popular graphic effects in ceramics is, of course, marble. It's stylish, noble, and always relevant. Therefore, when choosing tiles for your house, you can always just buy porcelain stoneware with a marble effect and decorate both the work area and the kitchen island with it.
The designers from the Inhome studio did just that for their taupe kitchen project. The deep gray of the Anthracite tiles from the Charm Evo collection and the fine neat veins give the kitchen a special feel and charm, while the technical properties of porcelain tiles ensure their durability and reliability.
Porcelain stoneware from the Charm Evo collection has also been used as the basis for another interesting kitchen design solution. The author of the project, Alexey Volkov, picked different colors for the floor and backsplash, covering the latter with the best-selling large-format Charm Evo Statuario 60×120 tiles and the former with the Charm Evo Anthracite 60×60 tiles. Both zones perfectly complement each other and serve as an extension of the overall interior design concept. Combined, these versatile colors create a stylish interior in natural hues.
If you're a fan of natural beauty but marble porcelain doesn't fit into your decor, we have two good news for you: first, the Italon range includes both neutral and eye-catching "stone" and "concrete" tiles, and second, they'll make your kitchen look chic and stylish!
The Jeevaa Design studio agrees with us, which is why they've chosen our tiles for their spacious gray kitchen project, opting for the 60×60 Contempora tiles in the unusual Carbon color for the flooring and 60×60 Millenium Pure light porcelain stoneware tiles with a concrete effect for the backsplash. This harmonious combination of materials looks modern and elegant, and the tiles make the interior practical, functional, and easy to clean.
Don't Be Afraid to Experiment!
Brutal loft or modern classics? Finding your interior style takes a long time, so we'll continue to share expert advice. Here's one more tip: go for tiles of the same color in several rooms at once — for example, use the same floor tiles in the kitchen, hallway, and dressing room — to make the whole process easier.
Designer Nina Schubert followed this advice and decorated all the "work" areas in a client's apartment with dark gray MillenniumBlack tiles with a concrete effect. For a splash of color, she lined the kitchen backsplash with Surface Corten tiles with a metal effect. Textures with a touch of brutality, bright kitchen furniture facades, and the room's functionality made the interior feel special and personalized, leaving the customers pleased with their modern loft kitchen.
Want to add some luster to your kitchen decor? Great idea! The Metropolis collection has a whole line of porcelain stoneware tiles with a Murano glass effect. The design studio For Life took a fancy to it and used the collection's most charismatic representatives — the Arcadia Brown tiles and the unique Glass Sand tiles — for its elegant kitchen-diner project.
To make the kitchen look bright and cozy at any time of day, the designers added some backlighting to the glossy porcelain stoneware backsplash.
If your kitchen-diner is very spacious and the work, dining, and recreation zones form an integral space, consider yourself lucky! Its large area will allow you to go beyond the usual design solutions and experiment with unique ideas.
When designing a spacious kitchen-diner in the modern classic style, designer Elena Krasulina thought of everything: a seamless backsplash decorated with white maxi-size 120×278 Metropolis Calacatta Gold tiles, a dining area accentuated with luxurious Intarsio Arabescato "marble" decor, and a black contrast TV-zone decorated with large Sahara Noir 80×160 tiles. For the flooring, she used distinctive "marble" tiles from the Charm Deluxe collection in the Arabescato White color.
In conclusion, we'd like to emphasize once again that kitchen design should be thought through to the finest detail. When working on a kitchen, take into account the room's total area, outline the "golden triangle" and storage space, think about lighting, and don't forget to factor in the windows. We hope that our tips will help you make your kitchen beautiful, stylish, and functional.
You can find more kitchen design ideas in the article Kitchen Tiles: Flooring and Backsplash.